This article is more than 1 year old
To InfiniFlash and beyond: SanDisk wheels out Big Data box
And it reckons you'll pay just $2/GB for this one
SanDisk has announced its InfiniFlash all-flash array for Big Data, a 3U box holding up to 512TB of data, 10 times more than the ION Accelerator appliance, and capable of running the same software stack – or Ceph.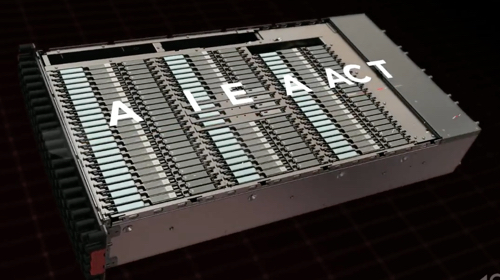 Video* grab showing InfiniFlash box with top lid removed
There are three models:
IF100 - hardware only to 512TB (490TB usable)
IF500 - using IF100 HW with InfiniFlash OS - Ceph
IF700 - to 512TB (490TB usable) using IF100 HW with InfiniFlash OS - ION Accelerator
The IF750, we are told, "leverages the ION Accelerator software from the Fusion-io acquisition to create an additional solution for workloads on NoSQL databases (Cassandra, MongoDB)."
Sometime before the end of this year, it will be possible to get a petabyte of raw flash storage capacity that fits within a 3U rack enclosure, and if current trends persist, such a device will cost the same or less than a disk array equipped with reasonably capacious and zippy disk drives. At what point ...
Read more on
It's built from up to 64 x 8TB MLC NAND-carrying hot-swap cards – quasi-SSDs – laid out in three rows of SAS-connected Card: 24 cards, 18 cards, 22 cards, in a 3U rackmount box. These cards are different in format from the existing Fusion-io technology ioMemory and ioDrive cards, which can have a maximum of 6.4TB of capacity (SX300).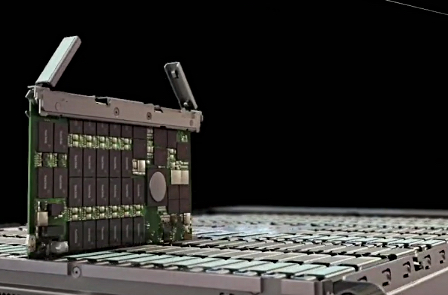 SanDisk 8TB InfiniFlash card
SanDisk wasn't able to tell us the controller configuration inside the system.
The box supports up to 8 SAS-connected servers and SanDisk says it delivers extreme performance: "InfiniFlash is able to achieve 1 million IOPs per second, which was achieved on an Active-Active Configuration consisting of 2 nodes, 4k block size, 100 per cent read 0 percent write ratio, and it was random access."
It has 7GB/sec throughput and a scale-out design.
InfiniFlash has <1ms latency and its endurance is around 4 years. SanDisk explains that 150 total 4K random drive writes to 500TB results in 75PB written (lifetime), with 6GB/sec box I/O and a 90/10 typical read/write ratio that results in a 4-year life. Using a 16K block size "and getting somewhere between 600 and 4000 total drive writes fundamentally means not having to worry about the endurance if everything is properly set up," we're told.
Flash cards, fans, power supplies and expanders are all hot-swappable.
Flash packing density
How does its 512TB in 3U compare to other products?
Violin Memory's Concerto 7300 is a 3U box containing up to 70TB of raw flash – the InfiniFlash has 7.3 times more.
HGST's Skyera SkyHawk has 136TB in 1U: that would, by extension, be 408TB in 3U.
SolidFire's SFG9010 puts 9.6TB in 1U; 28.8TB would need 3U at that packing density; SanDisk beats that density almost 18 times. Clearly it has done a great job of packing the flash into its box.
Software sauce for the flash meat
The InfiniFlash system's node OS is Ubunti 14.04 and SanDisk says application servers can run all Linux distributions.
InfiniFlash can run the Ceph open source, unified, scale-out block, object store and file system or SanDisk's ION Accelerator software stack for block storage support.
ION Accelerator is a Fusion-io all-flash appliance with a multi-lane PCIe architecture. It supports up to 32TB of flash capacity in 4U of rack shelf space, delivering 1.7 million random IOPs and up to 23GB/sec.
The SanDisk version supported up to 51.2TB in an up to 4U box, and has 16Gbit/s FC, 56Gbit/s and 40Gbit/s InfiniBand or 40Gbit/s and 10Gbit/s Ethernet connectivity available. This InfiniFlash box has 10 times the capacity in three quarters of the rackspace.
There is an SDK and development libraries to help customers "optimize applications for use with the system in order to obtain even better performance, efficiency and TCO."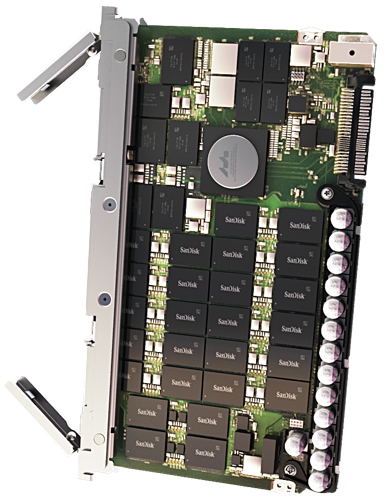 InfiniFlash card - like an SSD maybe.
SanDisk told us: "For both offerings, IF500 and IF700, there is an SDK available to developers who wish to utilize the APIs in the InfiniFlash OS to directly access flash and further enhance their specific applications."
Cloud access protocols are supported: RESTful API, Swift, and the S3 API. Block access is by iSCSI with management access via a CLI and a RESTful API.
Data protection facilities encompass snapshots, configurable replicas and erasure coding. There can be 256 snapshots. Geographic asynchronous replication of objects is available for disaster recovery. SanDisk also says there are a maximum of 64,000 storage zones per cluster or namespace for protection.
Scale-Out
Tens and even hundreds of InfiniFlash boxes can be ganged together in a scale-out cluster or namespace, SanDisk says, with a maximum capacity of 15PB per cluster. There can be 1 billion objects per cluster or namespace, described by SanDisk as "per device group" with no limits on device groups.
A maximum of ten replicas per unique object is permitted.
Cheap and deep flash
Pricing is said to be less than $2/raw GB – that is without compression or deduplication being used. When they are used, pricing on an effective capacity basis goes below $1/GB for the hardware-only IF100.
SanDisk exec veep and chief strategy officer Sumit Sadana said in a prepared quote: "By offering Infiniflash below $2/GB before compression and de-duplication, we are changing the industry dynamics in favour of dramatically broader flash adoption in new hyperscale and enterprise workloads."
There are three anticipated workloads: Big Data analytics, fast-access content repositories and media streaming. In each one SanDisk hopes that the speed limitations of hard disk arrays, together with their size, cost, complexity, and power and cooling costs, will tip the balance in favour of InfiniFlash.
IDC has been roped in to declare that Big Data Flash is a new kind of storage. Here's Eric Burgener, IDC Storage Practise research director with his canned quote: "Big Data Flash solutions consistently deliver sub-millisecond latencies, scale to hundreds of PBs, exhibit enterprise class reliability, availability, and serviceability, and bring the secondary economic benefits of flash deployment at scale to big data applications."
He mentions pricing comparable to 15,000 rpm performance disk drives, so don't expect it to match nearline disk-using array pricing.
SanDisk will use OEMs, channel partners, value-added resellers and system integrators to deploy Infiniflash. Its announcement has a supportive quote from Dell and we wouldn't be surprised to find out Cisco UCS servers will also support it.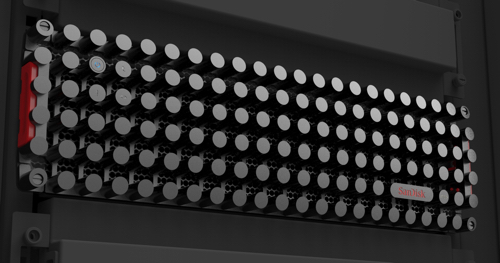 InfiniFlash's distinctively nobbly bezel. One knob at top left is on-off switch with blue light.
Distribution and positioning
SanDisk makes several positioning points:
Unlike other AFAs available today, InfiniFlash has no compute inside the box.
It far surpasses any other products available today in terms of raw storage capacity and IOPs.
InfiniFlash is also designed for to meet the scalability demands of Hyperscale, Big Data Analytics, Media Services, and Large Content Repositories.
For the IF100 customer we are breaking the $1/GB barrier.
For our IF500/IF700 customers we break the $2/GB barrier.
InfiniFlash components are hot-swappable, making the entire system an easy, field replaceable unit (FRU).
Rather than competing with EMC, Pure, Solidfire IBM and others in the general enterprise all-flash array space, SanDisk is focusing on the high-capacity big data analytics market, and similar ones, as its niche differentiation strategy.
It's justifying this with its packing density and its raw flash pricing strategy, and effectively saying if you need flash for really fast Big Data analytics, media serving and content repository contents access then InfiniFlash is the only affordable box available.
Check out a short InfiniFlash video here.
SanDisk OEM and channel partners can use the InfiniFlash hardware platform and integrate their own software stack with it. OEMS can integrate it with their own servers as InfiniFlash does not include compute resources.
Infiniflash is available immediately either directly from SanDisk or its OEM, SI and VAR Partners for interested enterprise and hyper scale customers, including end users. Service, maintenance, and support are provided by SanDisk and its go-to-market partners. ®
* SanDisk removed the source Vimeo video for this grab on the day before the launch.