MWC2015 The Next Generation Mobile Networks (NGMN) carriers' club has sorted out its ideas of what 5G's future, and set forth a blueprint of its preferred vision of a post-4G world.
The 5G world is going to have to get cracking, though: the roadmap, with contributions from luminaries like AT&T, BT, China Mobile, DoCoMo, SingTel, Vodafone, Telstra and others, wants the first steps to be complete by the end of the year.
With "detailed requirements" for 5G called for by the end of this year, the paper lays out the remaining steps as being:
Initial system design by 2017;
Trials in 2018, and standards ready by the end of that year; and
Commercial offerings by 2020.
That's a tough and tight timeline, considering that what the carriers see as being 5G looks like it's being sewn together by an Igor in a Terry Pratchett novel.
For example, the NGMN has noticed that 5G is going to have to support handsets, transceivers in cars, and a who-knows-how-many Internet of Things devices, so the network will have to be able to be "sliced up" so that each use-case gets the resources it needs.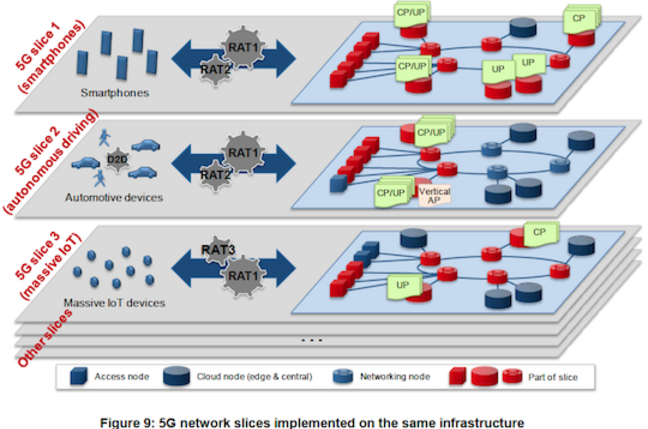 One network, many use-cases: the Next-Gen Mobile Networks group
expects "network slices" to support emerging use-cased like the IoT
After all, as the paper notes, IoT sensor deployments could demand "several hundred thousand simultaneous active connections per square kilometre".
Hence carriers' and vendors' enthusiasm for software-defined networks (SDN) and network function virtualisation (NFV), much in evidence at Mobile World Congress this year.
The carriers also reveal that they'd like to replace the office LAN, calling for standards that can deliver "1 Gb/s to be offered simultaneously to tens of workers in the same office floor".
Unsurprisingly, 4G spectrum efficiency is inadequate for the future: "In particular the average spectrum efficiency (measured in bit/s/Hz/cell) and the cell-edge spectrum efficiency (measured in bit/s/Hz/user) should be improved", the paper states.
The NGMN wants 5G to be the path by which the world will get 50 Mbps everywhere, with capacity and latency able to support "extreme real time communications" like the "tactile Internet", sufficient reliability for e-health solutions, and (to save carriers' bacon from over-the-top services) broadcast to mobile devices.
All of this – remembering that carriers are already challenged by the erosion of their revenue base – needs to be delivered on a technology base that also enables "ultra low-cost networks", the group says: "5G is expected to be flexible enough to be deployed under ultra-low cost requirements" for low-ARPU locations (such as emerging markets, or low-density areas in existing markets).
Robotics, disaster communications, autonomous cars, remote surgery, drones – the white paper is at least comprehensive in ticking off everything with the possible exception of 5G-enabled jet-packs, hover-boards, and the DeLorean.
The NGMN says "a key requirement for 5G will be that a consistent customer experience is achieved across time and service footprint" in a "5G eco-system that is truly global, free of fragmentation and open for innovations".
Devices will, of course, have to be multi-band and multi-mode, which will also put a premium on battery life and device efficiency, with the NGMN paper calling for three-day life for smartphones and up to 15 years for cheap IoT devices.
The world's also going to have to get cracking on what could be the biggest bug the industry has to swallow in delivering 5G: spectrum allocation reform. Noting that there's nowhere near enough space in today's mobile spectrum to meet its 5G laundry-list, the NGMN calls for "study technical feasibility of the ranges between 6 GHz and around 100 GHz, in particular those where primary or co-primary allocation to mobile in the ITU Radio Regulations exists already. The lower limit for the band range (above 6 GHz) should be further assessed."
Considering how slowly political processes move – and the capacity for existing spectrum users to stymie reform – it might be difficult finding enough radio bands in the next five years to do everything the carriers want.
If you're as breathless as Vulture South's hacks, you won't be able to wait to download the paper here, and will already be making a booking for the planned Frankfurt conference that will consider it at the end of the month. ®
Similar topics