This article is more than 1 year old
CONFIRMED: Tiny Windows Server is on the way
Cloud OS at the bottom, server in the middle and a dedicated client on top
Microsoft's plans to decompose Windows Server into a far lighter and leaner beast are real. On Monday we reported on the emergence of a Microsoft slide deck outlining a "Nano" version of Windows Server aimed at the cloud.
Microsoft's now pointed to an earlier statement about just what it plans.
The pointer came in a Tweet from an online session in which Microsoft talked up its looming Ignite conference, specifically the video below from early February featuring Jeffrey Snover, a Microsoft distinguished engineer and lead architect for Windows Server. We and other media seem to have missed it, but it confirms and explains much of the content in the slide deck we reported on Monday.
The fun kicks off at about the 26:00 mark of the video when Snover starts to talk about the Windows Server roadmap, and confirms Redmond's plan to release a very lightweight version of Windows server aimed at cloud workloads.
"We are going to have a cloud-optimised server," he says. "Windows Server will be deeply refactored for a cloud scenario [with] just the components required to do that and nothing else.
On top of that lightweight server will be a superset of Windows Server as we know it today. Snover says that version will be "compatible with what you have today" but that Windows Server's next version will have "two application profiles".
"Apps will target the existing set of APIs or the second set of cloud APIs."
Snover also says Microsoft "will be clear about a client vs a server" because "we have been fuzzy on this." Windows Server Next will therefore offer the chance to install a designated client.
Snover says this arrangement is needed because "lack of clarity hurt us" as "people who wrote server applications where we were not clear about this and wrote local GUI admin tools they put a bunch of business logic in the GUI and called private APIs."
That made it hard to automate the application or the underlying server, a state of affairs Snover said is unacceptable in these cloudy days.
Remote desktop services will therefore sit above the client, to make remoting into Windows Server easier.
Snover also says we should prepare for two types of containers when the next Windows Server debuts in 2016. One will be "a server in a container" and be "focussed on app compatibility". The second will be aimed at the cloud.
Here's how it all stacks up.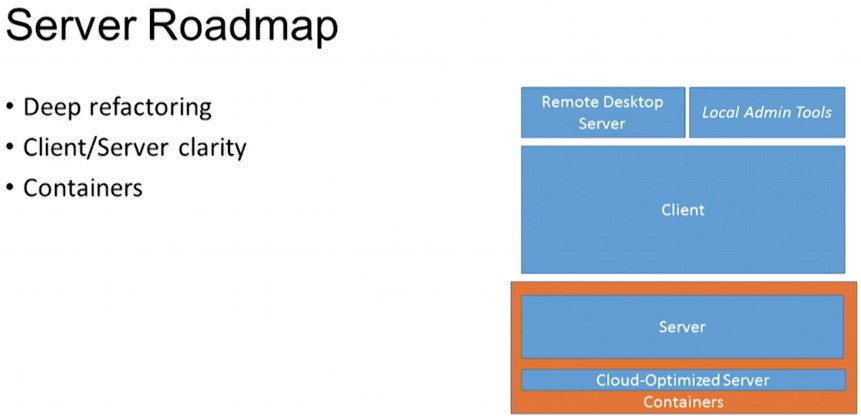 The Windows Server .Next stack
Snover also said Microsoft's investing even more in security, and that details of all he discussed will be revealed at the Build (April 29-May 1) and Ignite (May 4-8) conferences.
Bring 'em on! ®