Botched NBN installs leave folks with no internet, or recourse
TIO chases retailers, who chase NBN Co, which does ... very little we can see
Australia's Telecommunications Industry Ombudsman Simon Cohen says the agency can do little to help subscribers dealing with broken National Broadband Network (NBN) installations.
While the agency can flag complaints with NBN Co, the entity building and operating the NBN, it appears unable to do anything to force the utility to fix botched fibre connections referred to under the blanket term 'core network shortfall'.
Instead the office registers a fault against the retail service provider, or ISP, regardless of whether that telco was at fault. The internet providers can then do little but pester a seemingly unresponsive NBN Co for restoration updates.
"Where an area is listed as NBN-ready, but there is insufficient infrastructure that prevents a connection to a specific address (known as a network shortfall), the TIO does not have the power to direct a provider to install the missing infrastructure," Cohen says.
"Consumers can raise issues about incomplete infrastructure in NBN-ready areas with NBN Co or with the Department of Communications."
"When the TIO receives a complaint about a delay to an NBN service connection, we usually record it against the retail provider that has the contract with the consumer."
The office could flag with NBN Co damage to property resulting from installations. Consumers could approach Telstra for a voice service where one did not exist under the Universal Service Obligation, but were out of luck for internet services.
"The universal service obligation (USO)does not apply to internet services and consumers who require an internet service only may need to explore options such as mobile or fixed wireless," Cohen says.
These difficulties came to light after Melbourne security bod Liam O, who requested El Reg alter his name, was denied access to fixed line broadband over copper when NBN Co incorrectly chalked up his apartment complex as connected to its fibre-to-the-premises network.
The IT security professional has been unable to work from home for the four months after he first requested an NBN connection.
He says NBN Co has not provided an estimated time to fix what appears as a botched contractor installation job that has prevented his and nine other units in his Brunswick apartment from receiving any fixed line internet connection.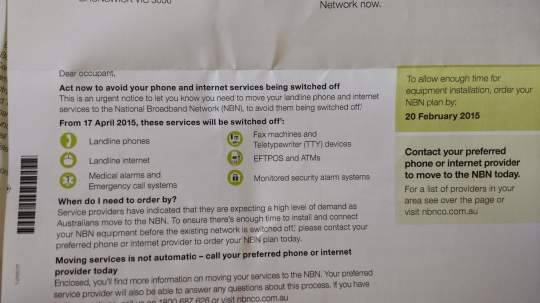 NBN Co letters sent to Liam O recommending connections be requested before copper is ripped out.
After multiple phone calls between NBN Co, Liam O and his preferred retailer Internode, Liam O has learned that his apartment block was subject to a 'core network shortfall' with no estimated time for a fix.
NBN Co has not responded to multiple requests by The Register, made with with Liam O's permission. to source information on the case. Nor have wee been advised of information on recourse options available to affected consumers.
Under NBN arrangements Liam O and others in his apartment cannot access copper last mile since NBN Co considers the block connected, rendering them cut off from all terrestrial telecommunications options.
The Australian Communications and Media Authority told Liam O in an email seen by El Reg that consumers without telephone access could apply for a reduced-rate mobile or satellite phone, but would have to call the Department of Communications to query the fixed-line connection.
The copper last mile, since deactivated, is scheduled to be ripped out from MR O's neighbourhood.
Liam O says a separate contractor who installed connections within Multi Dwelling Units claimed the shortfalls are a common source of frustration with residents.
It is unknown how many consumers are affected by core network shortfalls which can encompass a variety of faults from architectural variance to Liam O's apparent contractor stuff-up.
Telco forum Whirlpool is littered with cases of consumers issued with bland core network shortfall notices, with some enduring multiple missed estimate resolution times blowing out to six weeks. ®