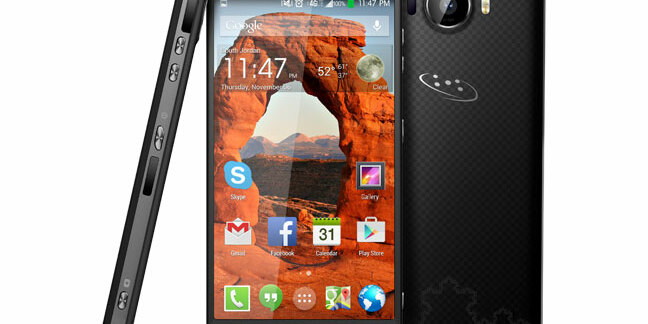 MWC 2015 At a pre-MWC preview, Utah-based Saygus showed off its V2 Android phone, which turns up a notch all the specs.
Samsung customers who have been turned off in the past by the S6's lack of a MicrosSD slot will appreciate the two slots of the V2.
This, along with the 64GB on board, would give the well-heeled customer nearly half a terabyte of storage if combined with the new SanDisk 200GB MicroSD cards. You can boot from an SD card, so there is also the option to add multiple OSs.
The battery is removable too. It's strange to think that staples have become differentiating features.
"Since its launch preview at CES in January, the V2 has been well received by media and consumers around the world," said Chad Sayers, founder of Saygus. "In fact, we have now received orders from 51 different countries."
It's all about the specs, with a 2.5GHz Qualcomm Snapdragon 801, optical image stabilisation (OIS) in both the rear (21MP) and front (13MP) cameras, waterproofed IPX7 "swimmable" capability, sunlight viewability, 3100 mAh battery with 50 per cent battery savings chip and a compact biometric fingerprint side scanner. Saygus claims special performance from its fractal antenna.
The phone runs unmolested Android 4.4.4 (KitKat). Lollipop is in the works, but the company refused to be drawn on exactly when.
While the screen falls short of the S6's 577ppi resolution it is an iPhone-beating 5" 1920 x 1080 display at 445 ppi, edge-to-edge borderless screen with front and back light sensors.
There are the standard features of dual-band Wi-Fi (2.4G/5G), 802.11 a/b/g/n/ac NFC and Bluetooth 4.0 Low Energy, but it also has 60GHz wireless gaming and mobile beaming, which the company was using at Mobile World Congress to show the screen mirrored on a big-screen TV through a special wireless-to-HDMI adaptor plugged into the screen.
There is also MHL HDMI, which can achieve the same through a cable.
It uses noise cancelling from Cypher Sound Technology with three microphones, the case has hardened Kevlar protective edges with anodized brushed aluminium sides, a magnesium mid-frame, and a soft-touch back coating.
Saygus is taking pre-orders at $599 (£400) and looking to ship in Q2, although a quick poke about at the MWC stand found it to be more than a little flaky.
It's not uncommon for pre-production devices to fall over at the first prod from a journalist – a MWC demo from Dell did the same thing – but given Saygus' lack of a track record, our advice would be to wait until it ships before placing an order. ®
Sponsored: Ransomware has gone nuclear