This article is more than 1 year old
Super SSD tech: Fancy a bonkers 8TB all-flash PC?
Novachips has the chops
Fancy an 8TB SSD? Put one in a PC or notebook and you've got yourself a smoking hot system, fast and with a gaping capacity for data.
Zsolt Kerekes of StorageSearch flagged up Novachips and its coming 8TB 2.5-inch SSD.
This story is being written on an iMac with a 1TB Fusion drive (combined SSD and HDD) which is pretty near full. The prospect of having an 8TB all-flash PC fills me with "I want one" feelings. Is this superSSD for real?
Current 3.5-inch disk drive tech is at the 6TB level, with helium-filling extending that to 8TB and shingling to 10TB at some time in the future.
Novachips has two 8TB SSDs discussed on its website: the NS3700 SATA (Scalar series) and the NS5700 (Express series). The NS3700 (PDF) features:
Up to to 100,000 random read/write 4k IOPS
Sequential data in and out at up to 560MB/sec
Endurance of five years at 10 full drive writes/day
Read and write latency of 65µs/40µs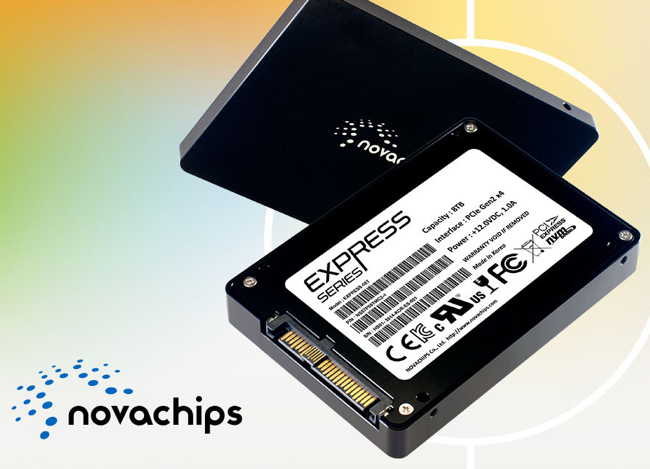 NS5700 Express 8TB 2.5-inch PCIe NVMe SSD
Here's a Novachips doc (Pdf) about its NS5700 HLSSD which is going to be sampling soon. It is a PCIe gen 2 x4 connected device, with NVMe, and has a single controller. The technology is HyperLink NAND (HLNAND) which has a ring architecture and uses MLC NAND. The device delivers
Up to to 360,000 random read/write 4k IOPS
Sequential data in and out at up to 1.8GB/sec
Endurance is five years at 10 full drive writes/day
Read and write latency is 40µs/40µs
What's not to like?
Novachips bought HLNAND assets in January from Conversant Intellectual Property Management Inc. That gave it ownership of a point-to-point ring architecture which it says "outpaces the parallel bus architecture used in most industry standard NAND Flash products". The HyperLink interface has a serial, point-to-point, daisy-chain topology and connects up to 255 memory devices in a single memory channel, called a "Ring".
The firm says:
Because each HLNAND device is only connected to the next device in the Ring, it is driving just one load. Therefore, maximum operational speed is maintained regardless of the number of devices populated in the Ring.
Novachips reckons it can use this technology to produce a 16TB Flash Storage Processor device. The NS3700 and NS5700 come in 2TB, 4TB and 8TB versions. AES-256-bit encryption is available.
Customer sample products should start shipping by very early April with mass production commencing in the second half of the year. If this is real and viable technology then it will cause the major NAND foundries to sit up and take notice.
Yesterday SanDisk announced its InfiniFlash array, which uses 8TB flash cards. These cards are bigger than the 2.5-inch form factor but, even so, the possibility of 8TB chunks of NAND capacity is real.
Assuming pricing were affordable, such SSDs could basically kill the PC and notebook disk drive market in a couple of years. ®