MWC 2015 Incongruous among the mobile marketing solutions and miscellaneous apps in the Spanish section at Mobile World Congress was the VR experience from Spanish company Whiplash.
On a stand which was significantly too small, the company demonstrated its two-axis articulated seat tied to binocular displays.
As one hapless potential customer thrashed around, he kicked some furniture which gashed a passer-by and the show organisers brought demonstrations to an end.
Whiplash was told that under no circumstances was it to run the kit again, a threat which was taken so seriously that the company was more than a little nervous when we asked a representative to sit in the seat for this photograph.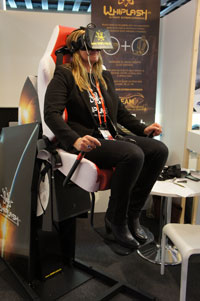 Her colleagues rushed to restrain her as she looked for the ladder to climb aboard, but such is the authority of El Reg that she waved them away.
The version at the show was the €20,000 Whiplash Bussines edition [sic] aimed at people who want to charge punters for the thrill, but a €10,000 domestic version is also available.
One of the viewing options is a mobile phone-powered VR headset, but the link with Mobile World Congress is tenuous. It's unclear why Whiplash thought that people who were shopping for LTE-A and MIMO devices might want a fairground ride.
Indeed World Congress is becoming more of a business technology show, with CES having as much significance for a lot of the wearable mobile technology. ®