Analyse this! Gartner puts data warehouse leaders on the couch
Teradata, Oracle, IBM deliver Robert De Niro's lines
---
The old data warehousing and business analytics dogs still bark the loudest, but Hadoopy newcomers are barking loudly on their tails. Gartner compared 17 analytics vendors in one of its magical quadrants and said Teradata, Oracle and IBM were top o' the tree, with Cloudera, MapR, AWS and 1010data as challengers.
Gartner states: "Entering 2015, the data warehouse has expanded to address multiple data types, processing engines and repositories. We now see a much wider separation in the Leaders quadrant.
Enterprise architects and data warehouse managers must work with their CIOs to address the new demands and solution options."
Businesses need products "capable of managing and processing external data in combination with their traditional internal sources, and may even include data from the Internet of Things.
This is creating new demands on the data warehouse market — for broader data management solutions for analytics, with features and functionality that represent a significant augmentation to existing enterprise data warehouse strategies".
Clear enough. Analytics is now a hotly contested space and Microsoft, SAP and HP were also in the leaders' quadrant, the top right-hand box in this ranking of suppliers for ability to execute and completeness of vision.
Oddly, Pivotal was one of only two players in the visionaries square.
The analytics suppliers Gartner included were:
Leaders

Teradata
Oracle
IBM
Microsoft
SAP
HP

Challengers

MapR Technologies
Cloudera
1010data
Amazon Web Services

Niche Players

Exasol
MarkLogic
Kognitio
Hitachi
Infobright

Visionaries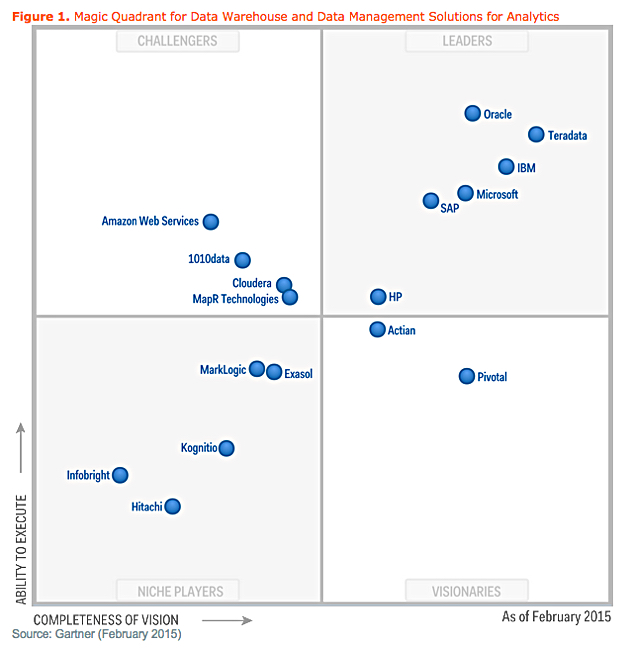 Get the public bit of the Gartner Analytics MQ courtesy of MapR here (registration required). It's well worth a read for quick summaries of the different vendors and their offerings and status. ®