Bite my shiny metal Ask: Java for OS X crapware storm brewing
Thanks, Oracle, for another reason to ditch your software
---
Mac fans now have one more thing in common with their Windows-using bosses: their Oracle Java updates now try to smuggle in Ask's browser toolbar.
The upgrade, version 8u40 of Java for OS X, tragically tries to install the plugin, which hijacks the user's default web search engine and homepage to Ask.com. Windows users of the Java desktop runtime have fended off the toolbar for years, and quite why moneybags Oracle feels the need to include the thing is baffling to say the least.
We ran the update in an OS X virtual machine to check whether Oracle really is bundling the Ask toolbar. Users can opt-out of the plugin's installation by un-ticking a box during the upgrade process. Those who don't pay close attention when installing, however, will get the (potentially) unwanted Askware and a homepage takeover with their Java update.
According to NetMarketShare, Ask has about 0.12 per cent of the global search engine market share. Does anyone actually willingly use it, or is it just those who forgot to uncheck a box?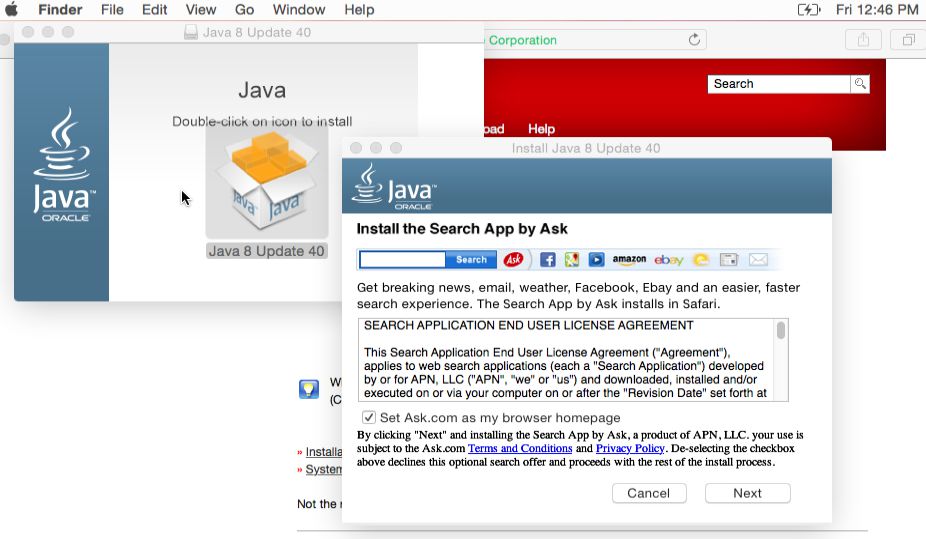 As usual, Mac users had to wait years for a port (click to enlarge)
Apple maintained a port of the Oracle/Sun Java runtime until 2012, leaving the OS X build to Oracle to update and distribute. Java on the desktop has fallen out of favor with many due to security concerns. The rise of HTML5 has further eroded the need to have Java running in the browser.
If you do have to install the Java runtime on your Mac, and we're happy to believe that few of you are, be sure to pay close attention to the dialog boxes – and opt out of any unwanted bundlejunk. ®