Violin Memory's fourth fiscal 2015 quarter revenues sucked. Its statement put it plainly enough: "Fourth quarter fiscal 2015 revenue was $20.5m, six per cent lower sequentially compared to $21.7m reported in the third quarter of fiscal 2015, and 27 per cent lower compared to $28.0m reported in the fourth quarter of fiscal year 2014."
Analysts had been expecting revenue of $24m.
There was a net loss of $46.8m, compared to the previous quarter's net loss of $23.5m - a 99.1 per cent increase in losses - and the year-ago quarter's net loss of $56.5m. At least the loss shrank on the annual compare.
The full year results sucked too: "Fiscal year 2015 revenue was $79.0m, 27 per cent lower compared to $107.7m reported for fiscal year 2014." The net loss for the year was $108.9m, compared to a net loss of $149.8m in the previous year. Again, the net loss decreased which was good; the cost controls are working.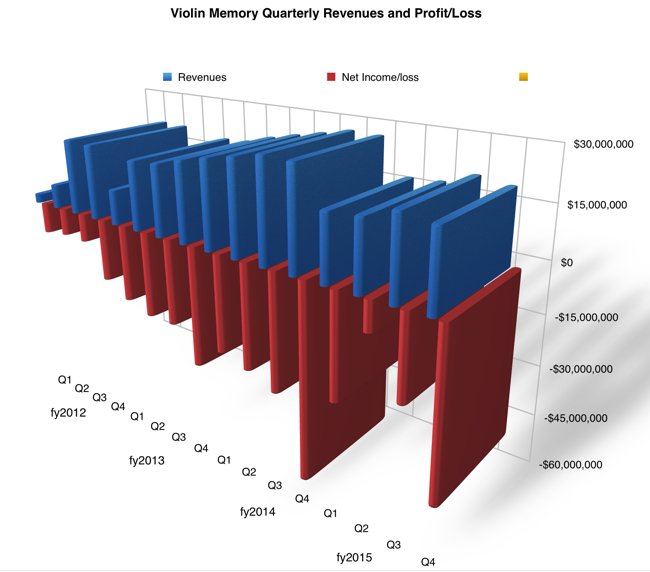 Why is there a revenue shortfall in the latest quarter? CEO Kevin DeNuccio attributed it to "a rapid transition to our new Flash Storage Platform (FSP), affecting fourth-quarter revenue as we experienced some related customer timing issues."
"Qualification issues" were also mentioned in the earnings webcast (registration needed). In short, customers didn't buy enough kit because they were taking too long thinking about the new products.
DeNuccio said major product transitions are difficult to execute, especially as a single product line company. Violin thought it had built enough backlog in the prior quarter; it hadn't and what it had built couldn't offset the timing issues. Customers didn't want to buy old 6000-series products, meaning inventory had to be written off. Violin was, we think, surprised by the speed of the transition in customers' thinking.
Interestingly, the Americas region was more affected by this timing/qualification problem than Europe and Asia-Pacific.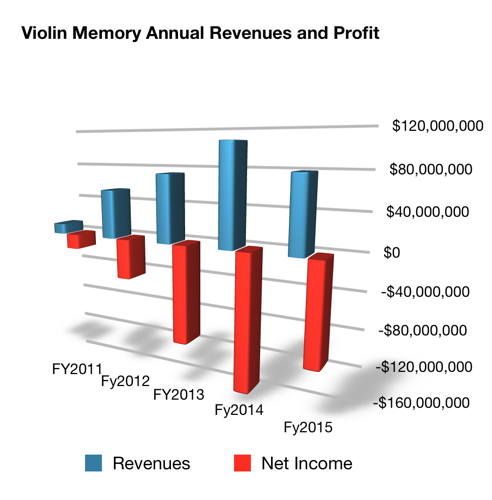 The FSP shipped to six customers in the quarter, the majority to Europe, driving just over 10 per cent of Violin's revenue. De Nuccio said customers are now qualifying the FSP and transitioning to it quickly. It was priced as low as $1.50/GB in effective capacity terms and this – together with its comprehensive and integrated data services – should help accelerate the transition from disk to flash.
He's optimistic about FY 2016: "Looking forward, we're confident in our ability to grow 10 per cent or more on a sequential quarterly basis in fiscal 2016."
That would equate to four quarters with revenues like $22.5m, $24.7m, $27.1m and $29.8m at a 10 per cent sequential growth rate, and a full year of $104.1m.
The actual guidance for the next quarter is for revenues between $21m and $24m, with $22.5m predicted for the mid-point. FSP shipments should represent more than 50 per cent of that. DeNuccio said Violin should make a steady march towards profitability from now on, but no timing prediction was made. ®