First look Microsoft has released a self-destructing preview of Office 2016 for Mac – Word, Excel, PowerPoint, Outlook and OneNote – but it still is not the equal of its PC counterpart.
Should Office work as well on OS X as on Windows? You can imagine the question being debated on Microsoft's Redmond campus. Is it better to keep users hooked on Office and Exchange whatever computer or device they use, or to preserve a key selling point for Windows, given that many business users live in Excel, Outlook, Word, and PowerPoint?
The appearance of decent-though-cut-down versions of Office for iOS and Android suggests that opinion has tilted towards making Office work well everywhere. But a first look at the new Office 2016 preview suggests that Mac Office, while improving, has yet to catch up with Office 2013, let alone with whatever may be in the new Windows Office that's expected later in 2015.
Office 2016 preview is a substantial 2.66GB download but it's easy to install, provided you have the 10.10 "Yosemite" flavour of OS X. Earlier versions are not supported. Another possible compatibility headache is that Outlook 2016 only supports Exchange 2010 or higher. The preview can work alongside Office 2011 and will run for up to 60 days.
Microsoft does seem to be bringing the visual design of Office on the Mac more closely into line with Office on Windows and on devices. The curvy app icons in Office 2011 were unique, while the Office 2016 icons are the same as those on Windows. The ribbon in Excel 2016 looks more like Excel 2013 than Excel 2011 for Mac, complete with the washed-out effect that was part of Microsoft's "content-first" strategy. There are still obvious differences, though; for example, menu headings are in all caps only in Office 2013.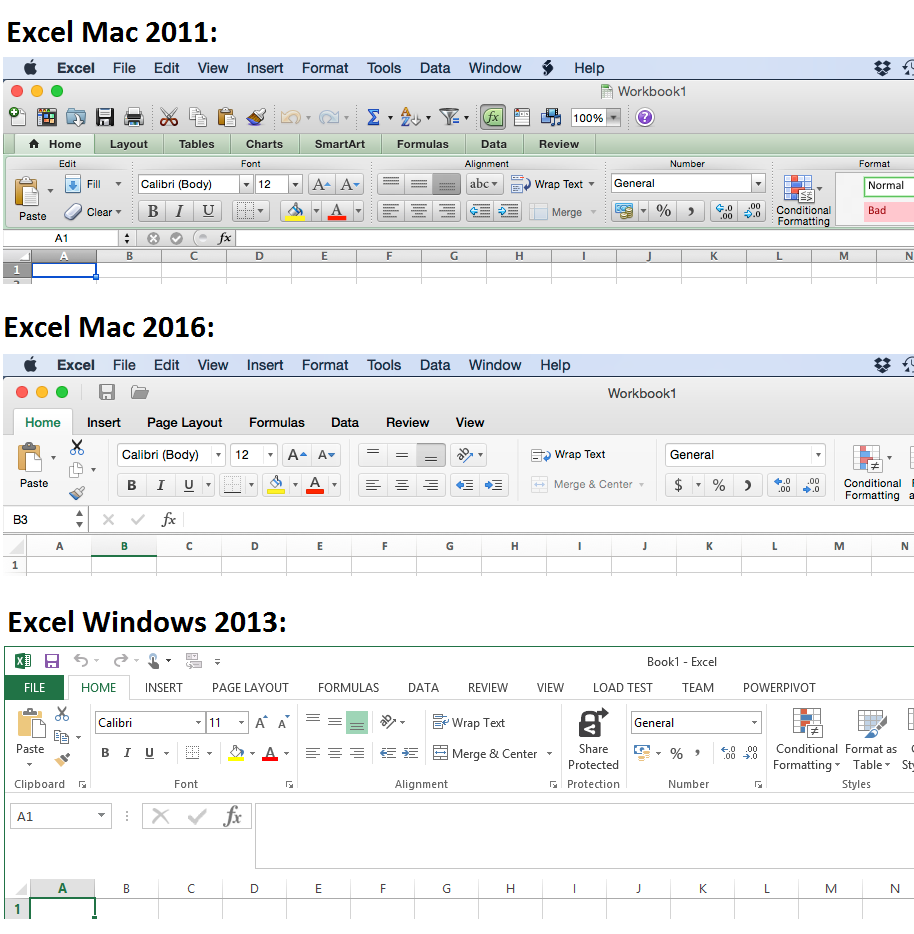 The ribbon toolbar in Excel 2011, Excel 2016, and Excel 2013
A big change, appearance aside, is that Office 2016 now ties in properly with Microsoft's cloud services. Opening documents from and saving them to either the consumer or business versions of OneDrive is built-in, and the "Open Recent" feature now shows you recent files across all your computers – presuming you have signed into a Microsoft account.
Considering the five-year gap between Office 2011 and Office 2016, the official list of what's new is surprisingly short, though it only covers major features. In summary:
Throughout Office, Microsoft promises full Retina Display support as well as Full Screen view (click the green icon at top left to enter or exit full screen view), and the redesigned Ribbon mentioned above.
There are new themes, styles, and templates in Word, Excel, and PowerPoint.
Word and PowerPoint support threaded comments.

Threaded comment in Word 2016. OK, I am talking to myself.

Excel has added support for the Analysis Toolpak (a collection of data analysis wizards), PivotTable slicers (buttons for filtering data in a PivotTable report), a Recommended Charts wizard, and an Equation Editor (replacing Office 2011's ancient and separate Microsoft Equation Editor). Most Excel 2013 functions are now supported. The formula builder has been improved, and print to PDF has been added.
Word gets a new Design tab for applying themes and styles, and an improved navigation pane (replacing Document Map).
PowerPoint gets an improved Presenter View, support for PowerPoint 2013 transitions, and an enhanced animation pane for managing animations. Saving to a QuickTime movie has been chopped.
Outlook has support for Message Preview (seeing the first line of an email in the list of messages), and Online Archive, a feature of Office 365 Enterprise or Exchange.
OneNote is now bundled with Office, though since Spring 2014 this app has been free on all platforms.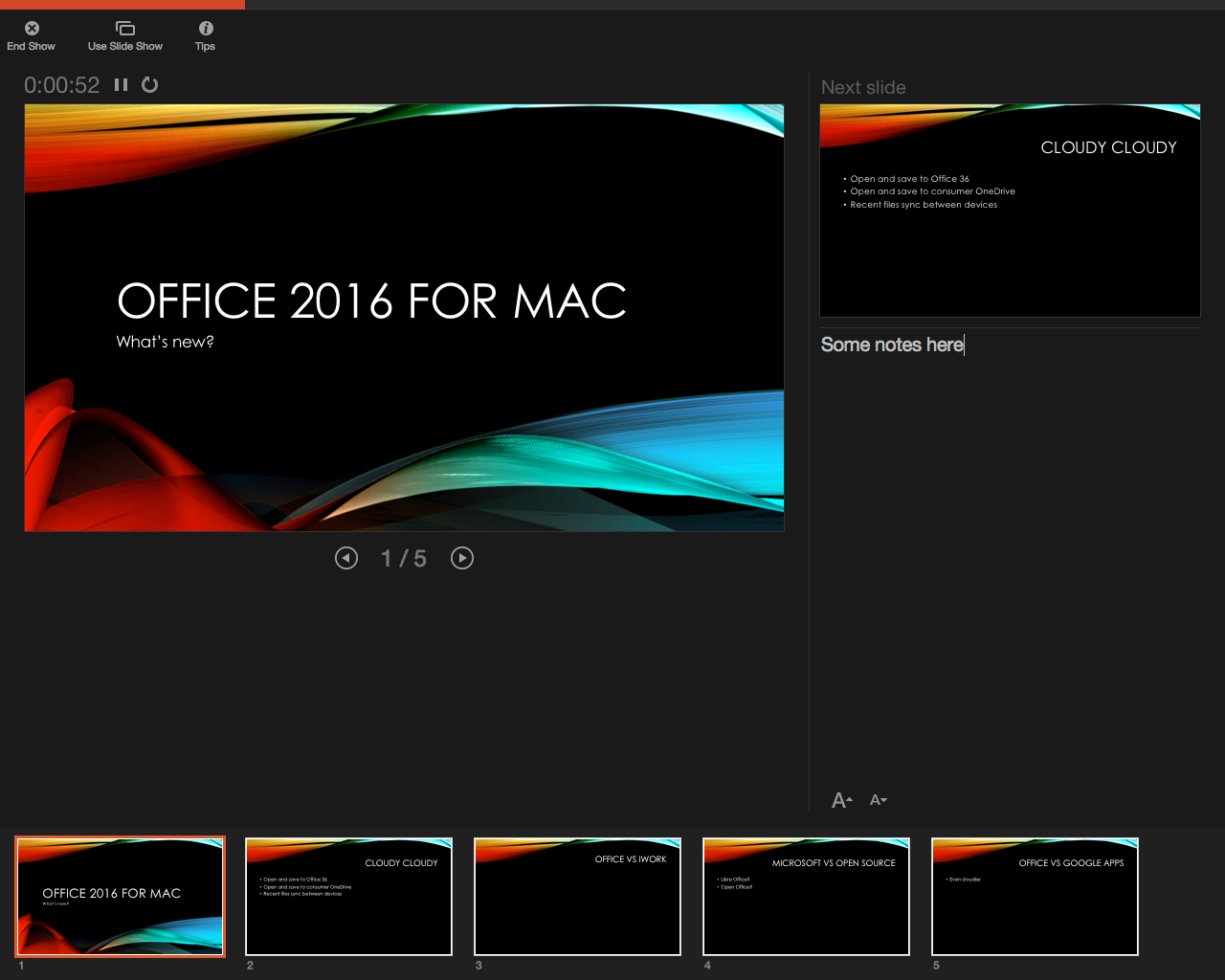 PowerPoint's Presenter View
The above might make it sound as if not much is new. But in fact the look, feel, and performance of Office 2016 are all substantial advances from Office 2011, and there are many small changes I haven't mentioned.
Moreover, while Outlook 2011 was hardly usable on my Core i5 Mac Mini, Outlook 2016 works well even with my unreasonably large Exchange 2010 mailbox. If you use Office 365 or personal OneDrive, Office 2016 works smoothly, where with the the previous version it was a struggle.
Microsoft has also struck a good balance between preserving a common user interface across all versions of Office and fitting in with the Mac user interface. It will not please everyone, but for those who use Office both on Windows PCs and on Macs, the transition is much easier.
That said, Office 2016 does nothing to change my opinion that serious Office users should stick with Windows. Even though it is a couple of years on from Office 2013, there is hardly anything here that is not already in the Windows edition; this is a partial catch-up.
For one thing, the current preview is 32-bit only, whereas 64-bit Office has been available on Windows for many years (although Microsoft recommends the 32-bit version for most users, for compatibility reasons). And while Excel for Mac now has PivotTable slicers, what about PowerPivot, which has been available on Windows since Excel 2010?
There is evidence, though, that Microsoft is working to divide Office into two different variants: full Office on Windows and Mac, and a cut-down version for tablets and phones. There is hope that in time Mac uses will not have to suffer an inferior Office. Then again, perhaps Microsoft does not mind if there is at least one strong business reason to run Windows. ®
Similar topics