This article is more than 1 year old
OK, they're not ROBOT BUTLERS, but Internet of Home 'Things' are getting smarter
The appliance of science
Feed the meter
British Gas has already installed over 1.4 million smart meters in Great Britain, with all suppliers under pressure to do the same in compliance with the EU Energy Directive's requirement that 80 per cent of European households have smart metering by 2020.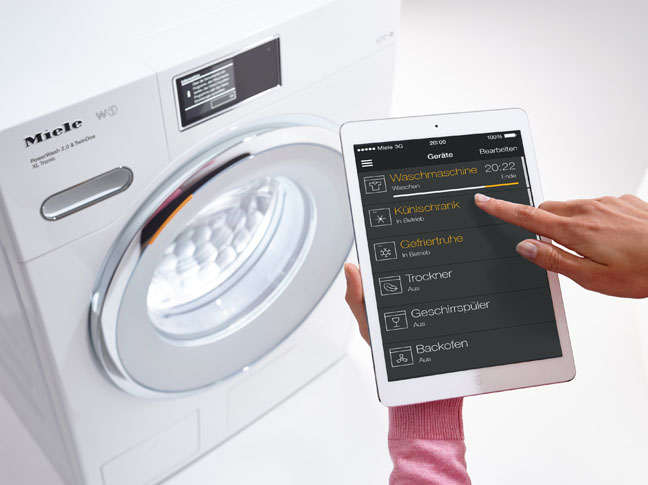 Miele app in action... or you could just touch the machine instead
In Germany, Miele already has a tumble drier that will send an email when the filter needs a de-fluff and if the home has a smart meter, the washing machine can be programmed to start a load when energy is at its cheapest. And for those early adopters, since September 2014, controlling and querying the status of Miele appliances has been possible when out of the home with the Miele appliance app.
Alas, Miele has no plans to launch connected products in the UK but with the smart meter rollout ongoing in the UK, that may well change soon. When it comes to UK offerings, Samsung has embraced the smart washing revolution earlier than most. The WW9000 Wi-Fi and smartphone controlled connected washing machine was launched in 2014. You can program its large LED screen for manual operation or set it to start using an Android or iOS app when out of the home, with notification sent when wash cycle finishes.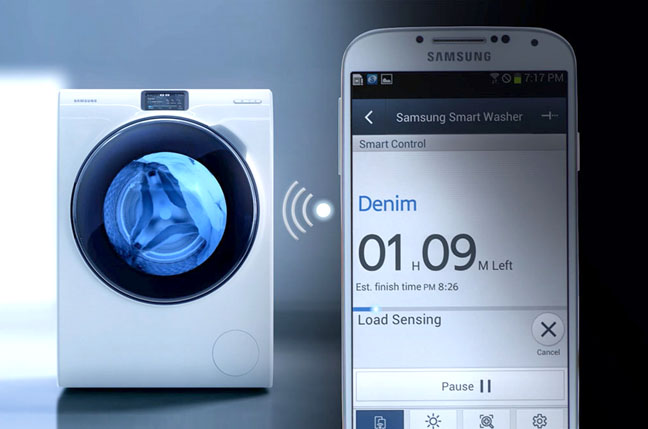 Samsung WW9000 series smart washing machine
Set-up is straightforward, no it doesn't load the washing but it means you can set it to wash remotely when on the way home. The benefit being that, if you time it right, washing isn't left sitting damp in the machine and you don't have to listen to it churn away either. And as home appliances go, it's a very sleek and desirable machine - but at what cost? It's currently £1,700 direct from Samsung or under its WW10H9600EW guise for £1,499 from John Lewis, Currys and Ao.com. Ouch!
Remote control is one thing, but integration with smart metering does seem to be where the value lies with these machines. At CES 2015, Whirlpool showcased smart a washer and dryer that works with Nest to time itself to turn on at the most cost-efficient times of day. The connected side relies on run-of-the-mill Wi-Fi to perform these tricks and more. Panasonic and LG also offer similar but again there is no UK launch date for either, so it looks like we'll be waiting for the proliferation of smart meters before we see a wider choice.
The Smart Bathroom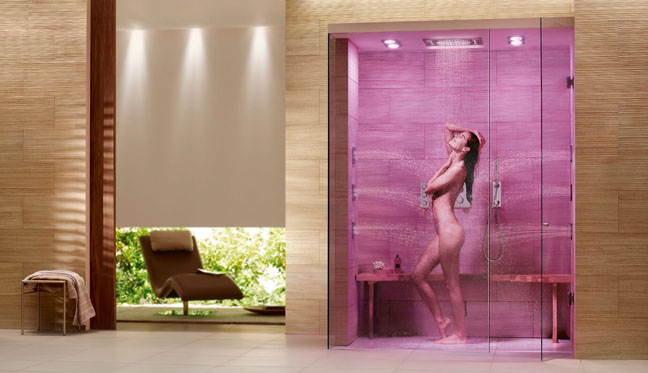 It's the Grohe Spa F-Digital Deluxe apparently...
The IoT is someway off becoming a reality in the bathroom. However, the Grohe Spa F-Digital Deluxe is now Bluetooth-enabled to use with an Android or iOS companion app to control the mood lighting, music and steam modules from the home. This state-of-the-art shower and spa experience ain't cheap at around £12,900 but with early adopters and WAGs taking it up, prices should drop with more wanting this home comfort technology.
On the affordable spectrum, at around £600, the Mira Vision Shower has a wireless controller, so you can turn this digital shower on from a snug bed. Unlike Grohe, there is no app yet but watch this space... but for how long? "Our R&D is ongoing in this arena," said Simon Browing, Mira Showers' industrial design director.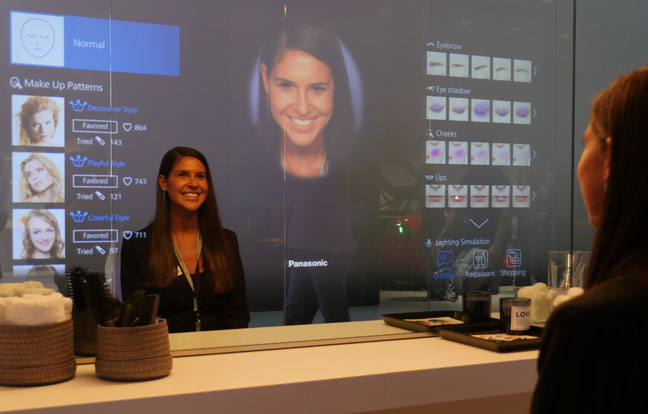 Conceptual vision: Panasonic Virtual Make Up interactive mirror
Panasonic's concept living space at IFA 2014 for the 2020 home hinted at some more fanciful innovations. The Smart mirror looks like a normal mirror until watching and futuristic stuff kicks in. Text flows in from the mirror sides advising on health and skin regime, your face is then captured for a virtual application of make-up - be it for heading off to the office or night on the town.
What else is expected? A recent report from Grohe sees the futuristic 2034 bathroom as an aid to our health. Products will be able to measure bodily functions and collect vital data for the user, the toilet can analyse urine and stools, and the toothbrush can collect information from saliva and blood readings that can be taken using non-invasive measures. Paul Flowers, senior veep of design of Grohe, says: "The bathroom of the future becomes a perfect place for health diagnostics." And no doubt spying on whether your teenage daughter is pregnant and your wayward son is a meth head.