This article is more than 1 year old
OK, they're not ROBOT BUTLERS, but Internet of Home 'Things' are getting smarter
The appliance of science
Smart Security
A must for most in smart home technology is home security. And the IoT has now made it affordable. The SmartThings Hub can be used with the Security kit which features motion, moisture, and open/closed sensors together with lighting and power control and of course, an alarm. There's even a presence sensor so you can check up on a pet or a confused relative.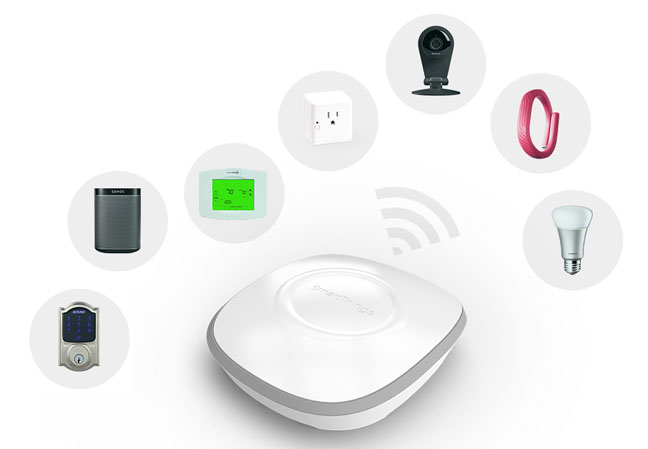 SmartThings hub and devices
The SmartThings app allows you to configure, control and monitor each device the home. Immediate alerts are sent to the app if doors or windows are detected left open. A notification is sent when people, pets and cars come and go at any time when you're away – yes, Big Brother is here. It'll be interesting to see whether insurance companies will shave anything off premiums with these devices, as it's a fraction of the price compared to traditional home security systems, starting at £199 and due to launch in the UK in June.
As Samsung's Robert King remarked, "How easy to put up a couple of sensors affordably to see what is happening in your home, from anywhere in the world. Messages sent to your smartphone give you total control even when away on holiday."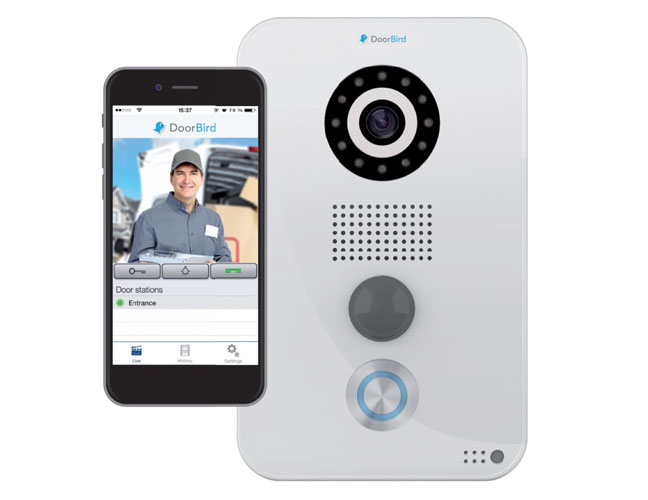 Doorbird security features HD video and motion sensing
If you just want remote access security, DoorBird will be available in the UK this spring. This smartphone-connected doorbell and video entry system includes remote unlocking with security. Live audio and video is streamed to the smartphone so visitors can be viewed and spoken to from iOS or Android devices over Wi-Fi or 3G/4G, whether at home or anywhere in the world. Users can then decide whether to unlock the door remotely.
Ideal for the earnest couch potato to allow friends, children with lost keys, deliveries and even that endangered species, the energy meter reader, access to the home. The DoorBird Video Doorbell is expected to cost around £256.
Bright ideas
For connected smart lights, Phillips Hue has been the leader. Hue bulbs screw into your current light fittings and work with the hue app, and IFTTT recipes. With Tesco Direct now stocking Hue, these lights are mainstream at £90 for two bulbs and a bridge to connect wirelessly to dim or brighten without an electrician.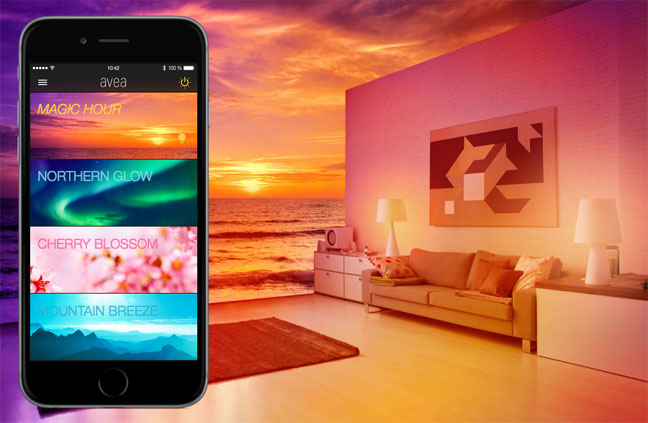 Elgato's app-controlled lights use Bluetooth rather than a Wi-Fi hub, but they're iOS only for now
Competition comes from Elgato Avea Bluetooth Smart light bulbs to set different lighting moods straight from your phone. Choose from seven preset moods, or wake up with a gentle light. It's available from Currys for £40. On the instant DIY smart level comes WeMo from Belkin, which offers affordable smart connected lighting and products.
If you've the time and the money, configuring a smart home is possible today and the future possibilities suggest we'll all be living in one sooner or later. Like the internet, smartphones and social media, it will no doubt be something that younger generations will take for granted. It makes you wonder how they will cope if they go off to university to find their draconian landlord has only installed basic appliances in their shared accommodation. Will the next generation be able to cope with a washing machine, oven or light bulb that's not connected?
Samsung's King takes a long view: "New technology is expensive but quickly comes down in price as the market expands – the easiest example of this is in the cost of TVs in recent years. Smart technology will be the same."
It's early days, and the connected home is soon to be a reality, but as the latest industry joke goes – yes, the dishwasher and toaster can talk to each other, but what will the conversation be? ®