This article is more than 1 year old
Fiction: Go into a room and walk into a dream
Anxious fantasies of a shared reality
Theatre Review As the lights glare and I stumble from the preview performance of Fiction at the Battersea Arts Centre, I feel like William Hurt in Altered States – emerging brain full of hallucinogens from an isolation tank.
Fiction is billed as an anxious journey through the architecture of our dreams. The brainchild of David Rosenberg and Glen Neath, supposes to aurally lead audiences through a soundscape in utter darkness – but nothing like sitting listening to an audiobook, this is a far more uncomfortable and unsettling experience.
After being handed a pair of headphones and being carefully separated from my partner in crime (this stops any touching, that might shatter the feeling of isolation), I am ushered into a room with some surprisingly comfy seats.
There's a black screen at the front of the room and in large white letters it says:
TO ENSURE COMPLETE DARKNESS. TURN YOUR PHONES OFF, NOT ON SILENT, OFF. ONCE WE BEGIN, IT WILL NOT BE EASY TO LEAVE. IN AN EMERGENCY RAISE YOUR HAND AND SAY HELP. HALF THE PEOPLE IN THIS ROOM ARE CHAPERONES
Suddenly the screen starts flickering with visual cues: images of furniture in shabby hotel rooms, corridors, coppices, and stuttering subliminal equestrian figurines burn my retina. Abruptly it's dark, very very dark. Then so close as to be uncomfortable in a pseudo sexual way, a woman whispers in my ear. She's my chaperone and I am her companion. She tells me she will cough gently every so often to comfort me with her presence, I'm not sure I want this.
In the dark I am dissociated with my physical surroundings and become part of a disjoined non-linear narrative. Though I feel isolated, my thoughts return again and again to those around me. Are they watching me? Are they listening to the same scenario? My chaperone, Julie, tells me there is a man watching me in the room opposite; I try to picture his face. Fluid faces swim before me in the darkness. I kick the chair gently in front of me to try and ground myself.
As I move between floors of the hotel or as a willing/unwilling passenger in a car in the rain, travelling to an unknown location, directional sound distorts my perception of space and I have lost complete track of time.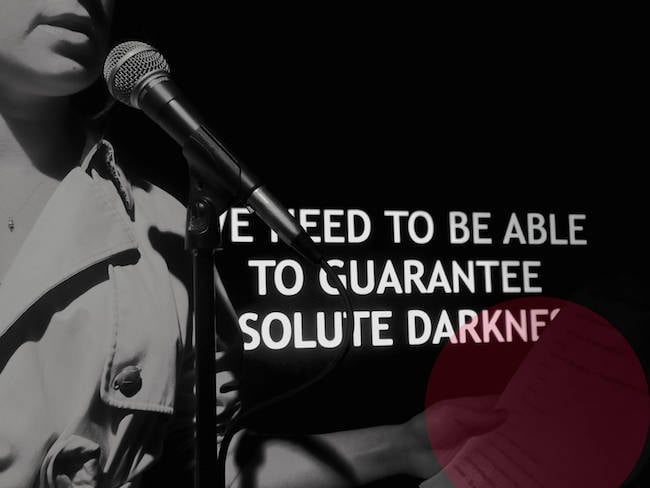 Fiction at the Battersea Arts Centre. Pic credit: David Rosenberg
There is something disconcerting about participating in Fiction, I am part of an audience but essentially taking in the experience on my own – dissociated from those around me. When we dream we are alone, the characters and narratives in dreams are illusions created by our subconscious. Fiction embedded me in a lucid dream that filled me with anxious fantasies of a shared reality, counting down towards something unknown.
The Fiction experience from beginning to end is designed to subsume me into a completely and disconcertingly immersive experience, unable to escape I must wait until the clock stops ticking or we reach our destination. I am a volunteer in an unwitting mass mental experiment.
Original and compelling, the hour I spend in the dark with Fiction seems like twenty minutes and as the dust settles, I no longer feel I am just sitting in a room surrounded by strangers with some headphones on.
I'm not sure that this is an experience you can repeat. Just like most dreams, upon waking it can never be fully remembered or repeated. A must for anyone with an interest in lucid dreaming or where the consciousness can lead when one is alone in the dark.
Hollywood film director David Lynch – who once said "We can go into a room and walk into a dream" – would approve. ®
Fiction is playing at London's Battersea Arts Centre until 21 March 2015.
Top pic credit: Alex Brenner for BAC