This article is more than 1 year old
Litecoin-mining code found in BitTorrent app, freeloaders hit the roof
Maybe buying that Blu-Ray in the first place was the better option, huh?
μTorrent users are furious after discovering their favorite file-sharing app is quietly bundled with a Litecoin mining program.
The alt-coin miner is developed by distributed computing biz Epic Scale, and is bundled in some installations of μTorrent, which is a Windows BitTorrent client.
Some peeps are really annoyed that Epic's code is running in the background while they illegally pirate torrent movies and Adobe Creative Suite Linux ISOs, and say they didn't ask for it to be installed.
Epic's software tries to do more than mine crypto-currencies, we're told: like the distributed SETI@home and BOINC projects, it spreads workloads over a large number of home computers, and can use their spare processor cycles to analyze genomes, fold proteins, and so on. But it mostly mines Litecoin.
The software is included in BitTorrent clients, as Epic's website explains:
All of our installations are opt-in, but if you just clicked "Next, Next, Next…" in the torrent installer, then you may not have noticed our offer page.

Epic Scale uses your computer's idle time to do genomics research, protein folding, image rendering, cryptocurrency mining, and more, then we give a majority of the profits to charities like Watsi (life-changing surgeries), and Immunity Project (HIV vaccine). We do not spy on your browsing behavior or scan your files or anything like that.
The biz today scrambled to update its website to include prominent instructions on how to uninstall its code, as more and more people complained on torrenting forums about the slightly hidden software.
A spokesman for μTorrent developer BitTorrent denied any wrongdoing to El Reg: the distributed processing software is installed if users do not click on a "decline offer" button while installing μTorrent.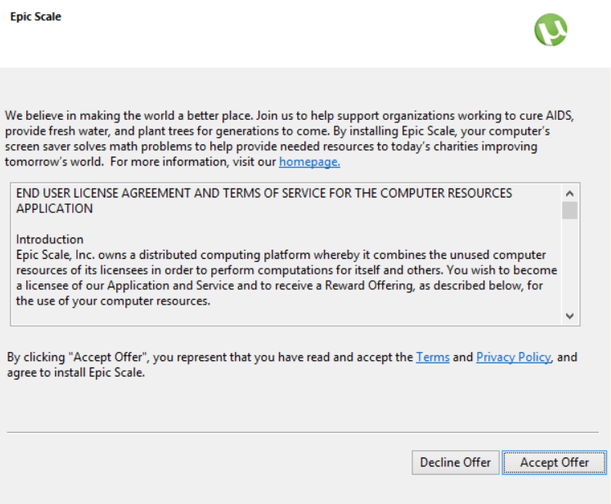 During the μTorrent install, you may see this Epic Scale "offer" box, or have clicked through it too quickly ... this charity funding is paid for by Litecoin mining
Not every μTorrent user will get Epic Scale's program, as BitTorrent varies the partner software it bundles with each download. Your humble hack was offered software that claimed to be Skype when he tried installing the torrenting client, for instance.
"Like many software companies, we have partner offers in our install path and our policy is that they are strictly optional," BitTorrent's spokesman added.
"We aim to work with partners that would appeal to our tech-forward user base."
Epic Scale's CEO Tim Olson insisted his company is not an alt-coin-mining crapware outfit. He told El Reg his biz began as a non-profit, and donates a portion of its proceeds to charity. Mined Litecoins are converted into dollars daily, and at least 75 per cent of its profit is given to good causes, we're told. One Litecoin is worth $1.89, and about 28,900 are created each day globally by all miners (not just Epic's), at time of writing.
Olson told us he hopes to shift his distributed computing network from crypto-currencies to full-time contracts with science research projects.
The Epic Scale boss said he approached BitTorrent to distribute his software late last year, but only recently began large-scale rollout of the code via μTorrent downloads. He said Epic will work with BitTorrent to show users a clearer opt-out choice during installation.
"It is super disappointing, that's not what we're about," he said, referring to complaints of covert installations.
"Although we distribute in these channels, we don't take people's data, we're not spyware. You hold Epic Scale next to something like a [browser] toolbar, and it's night and day."
In the meantime, Olson said disgruntled users can visit Epic Scale's uninstall instructions, or email its support address for help in removing the software. ®