Microsoft has filed for an injunction to ban Japanese mobe-maker Kyocera from selling its Duraforce, Hydro and Brigadier phones in the US, alleging a breach of its Android patents.
The Redmond-based software giant asked the US federal court in the Western District of Washington to impose an injunction against Kyocera, based on alleged infringement of some of its 200 Android patent families.
Kyocera's Torque phone, which has just been announced for European distribution, was not listed.
"We respect Kyocera, but we believe they need to license the patented technology they are using. We're hopeful this case can be resolved amicably," said Microsoft deputy general counsel David Howard in a statement.
Licensing for Android handset manufacturers is a major source of revenue for Microsoft, which has seen payments of $1bn from Samsung alone.
The patents Microsoft is citing are RE40989E "Atomic operations on data structures", US7137117 "Dynamically variable idle time thread scheduling", US7289102 "Method and apparatus using multiple sensors in a device with a display", US6349344 "Combining multiple java class files into a run-time image", US7062715 "Supplying notifications related to supply and consumption of user context data" and US7050408 Communicating multi-part messages between cellular devices using a standardized interface.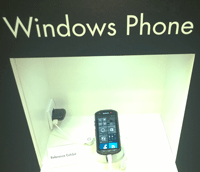 Kyocera – originally known as Kyoto Ceramics – makes a wide range of knives and is best known in Europe for printers, but is also an established handset manufacturer in the US and showed its range of ruggedised phones at Mobile World Congress.
These included a Windows Mobile concept phone, so it's unlikely that Microsoft will want to properly upset Kyocera. ®