This article is more than 1 year old
Teen sex pic swap shop SnapChat seeks Saudi cash to keep selfies flowing
American startup goes cap in hand to prince
Bosses at selfie-swapping upstart Snapchat spent the weekend in Saudi Arabia seeking investment from the Warren Buffett of the Middle East: Prince Al-Waleed bin Talal.
The self-destructing-photo app biz is looking for about $500m, and hopes the prince – a member of Saudi Arabia's ruling royal family – can chip in a few million.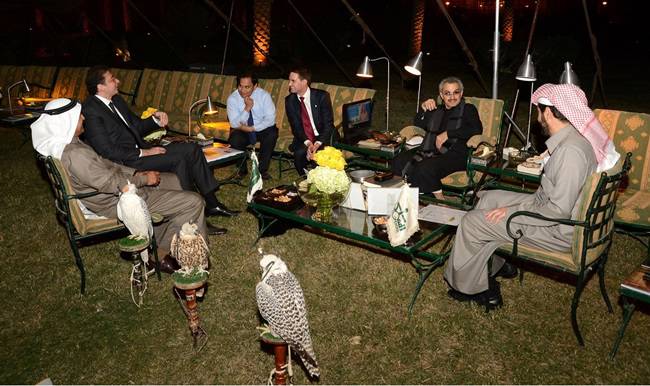 "Not the type of birds you're used to Mr Spiegel..."
The prince, whose personal hedge fund is the Kingdom Holding Company (KHC), appears to be interested in investing in Snapchat, even though swapping nude pics could land you in serious trouble under Saudi Arabia's Sharia Law.
"On the agenda of discussions was future potential business cooperation between KHC and Snap Chat in the technology field. Moreover, Prince Alwaleed hosted a luncheon in honor of his guest at Kingdom Resort," KHC said in a statement.
During the visit Prince Al-Waleed and Snapchat's CEO Evan Spiegel "discussed political, business and economic issues," and "future potential business cooperation between KHC and SnapChat in the technology field."
Weirdly, we can't imagine Snapchat – primarily used by adults and teens to exchange salacious photos – is the sort of thing encouraged by the kingdom. This is a country that blocks websites considered "immoral" (anything pornographic), and flogs (or threatens to behead) people for posting stuff on Facebook that's anti-Islamic or pro-women's rights.
Perhaps the prince is interested in monitoring exactly what's being swapped on SnapChat by his subjects. And if there's money to be made, the prince is quite happy to invest, and has done very well in technology stocks. KHC has a significant holding in Apple, and was an early investor in Twitter. The firm, 95 per cent owned by the prince, also owns large chunks of Citigroup, 21st Fox Century, and the Four Seasons hotel chain.
In 2013 Forbes estimated that Al-Waleed is personally worth $20bn, making him the 26th richest individual on the planet. The prince complained about the article, saying he was worth at least $29bn.
If Snapchat can raise the money it wants from Al-Waleed and others, the US startup will be valued at $19bn, putting itself on a par with WhatsApp. The pic biz is desperately trying to shed its sleazy image and make some respectable cash, while still profiting from amateur porn. ®