Fine funding for SimpliVity: Firm flies high with $175m boost
There's just something about Cubes and Stacks
Hyperconverged startup SimpliVity has scored $175m in a D-funding round, valuing it at a billion-plus dollars and taking total funding to, we think, $276m. So what's got the VCs salivating?
A big pay-out, obviously, but why?
SimpliVity has developed its OmniCube, which first appeared in public view in 2012, and is "a 2U rack enclosure containing server, storage and networking hardware plus software that presents it as a virtualised data centre-in-a-box resource". It has proprietary hardware inside it.
The idea is that it is simpler to buy lots of these boxes and integrate them together than buy the traditional best-of-breed data centre componentry IT buyers are used to.
The message resonated with enterprise IT and the firm's sales grew and grew as it developed the product and its channels. Simplivity claimed a fivefold growth in sales from 2013 to 2014 and shipped 1,500 OmniCube and OmniStack licenses in 2014.
That sales growth is the main reason for the billion-plus valuation and huge boost in funding, which comes 23 months after OmniCube first became generally available; that must be some kind of record.
Waypoint Capital led the round, with prior investors Accel Partners, Charles River Ventures, DFJ Growth, Kleiner Perkins Caufield & Byers (KPCB) and Meritech Capital Partners also contributing.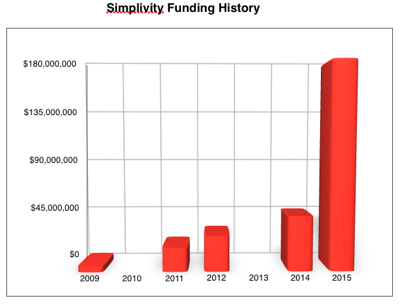 Apparently, Waypoint decided to join in the investment fun after it bought SimpliVity gear for five internal data centres spread around the globe, and liked what it saw.
Its chief information and technology officer, Frederic Wohlwend, justified the investment in a canned quote: "We were convinced SimpliVity is technologically superior, and that its unique data architecture is years ahead of the market. When we learned SimpliVity was raising capital, we insisted on taking the lead."
IDC placed SimpliVity second to market leader Nutanix in its 2014 Hyperconverged Systems Marketscape with EMC and VMware as the only mainstream suppliers present in its marketscape box.