HP battles back against white-box with Foxconn-built Cloudline servers
Rack-scale hardware at rock-bottom pricing
---
Open Compute Summit HP has made its bid for relevance in the modern data center with a new line of servers aimed at "rack scale" and "cloud scale" deployments.
The HP Cloudline servers, unveiled at the Open Compute Project Summit in San Jose, California this week, are the fruit of a collaboration between HP and Chinese manufacturing giant Foxconn that was announced last year.
"This is a noticeably different product line from what we've announced and what we've been shipping for 20+ years in the ProLiant line," John Gromala, HP's senior director of hyperscale products management, said in a Tuesday morning keynote.
Billed as delivering "tier one quality with white box pricing," the new servers are HP's answer to the growing market for unbranded servers built and delivered by original design manufacturers (ODMs) such as Inventec, Quanta, Super Micro, and Wistron.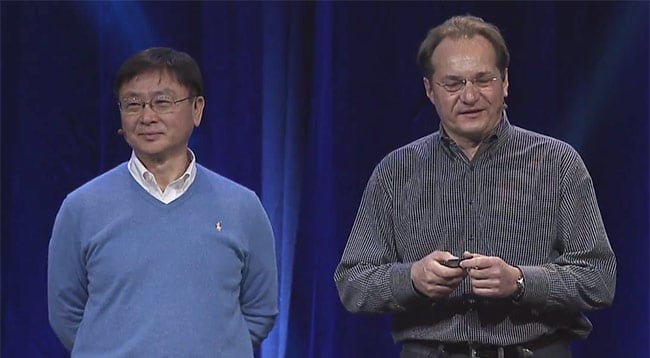 Foxconn's Foo-Ming Fu and HP's Alain Andreoli said the two companies "married" to produce Cloudline servers
At launch, the Cloudline family includes five product lines. At the top end, the CL7300 and CL7100 systems designed for compute applications that need lots of memory and storage.
If you can't beat them, join them. That is the old adage that compelled server juggernaut Hewlett-Packard to strike a partnership with original design manufacturer Foxconn last year for a new line of minimalist servers that HP could sell against other ODM upstarts that have stormed the datacenters of hyperscale and cloud service providers in recent years.
Read more on
The CL2200 and CL2100 systems are a little cheaper and are designed for storage-intensive big data applications and multipurpose workloads, respectively.
And if you really want to slash costs, there are the CL1100 servers, which Gromala described as "a two-socket server with the absolute lowest set of features" that HP could deliver for light workloads such as front-end web servers.
All of the models are dual-socket servers based on the latest Intel Xeon E5 v3 series processors.
To achieve what HP describes as "cost focused infrastructure" – that's cheap servers to you and me – HP has drawn upon Foxconn's supply-chain expertise to cut every corner possible.
Whereas earlier servers might have shipped with multiple, redundant components to avoid downtime in the event of failures, Cloudline systems rely on software and scale-out infrastructure to achieve high availability. Think clouds, not servers.
HP is also willing to play fast and loose with its support engagements to meet customers' pricing needs. "If you want just a 30-day warranty on things, we can absolutely provide that," Gromala said.
As for exact pricing, well, there's the rub. Cloudline servers are only available in volume and pricing will depend on quantities and configurations needed.
HP will start taking orders for the CL1100, CL2100, and CL2200 product lines on March 30. The beefier CL7100 and CL7300 models, on the other hand, will take a little longer to hit the market, and prospective customers should contact their HP reps for details. ®