Get appy
The WebAccess app (iOS, Android and Windows Mobile 7.5 and above) allows you to access and share files while on the move. The SmartPhone Navigator app allows you to do a whole lot more remotely.
For instance, you can access the NAS from a mobile device to set up WebAccess directly, create users and shared folders, change passwords and usernames, control any directly NAS connected USB devices, configure DNLA settings, receive error messages and remotely change the IP address of the LS441. It even lets you recover the array should it fail through problems with a drive.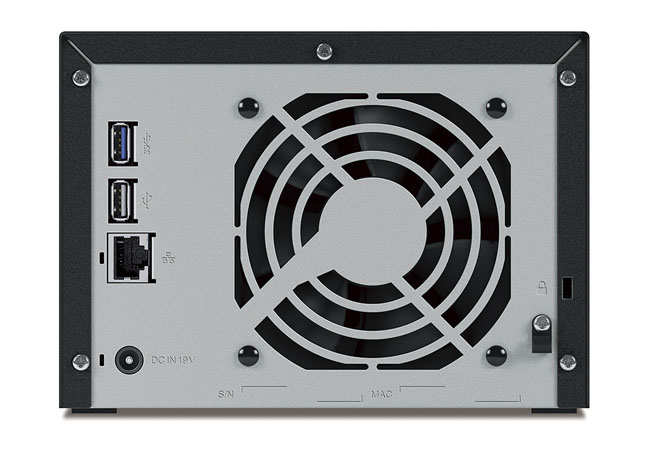 No dual Ethernet or PSUs here
Setting up the LinkStation 441 is pretty straightforward as Buffalo's NAS Navigator 2 – which comes on a CD in the box or can be downloaded – has a GUI that is easy to use and understand.
A nice touch is when you are doing anything with the arrays a confirmation screen comes up so you have to enter the confirmation number before anything happens which does allow you time to make sure you're doing the right thing.
One thing to look out for in creating RAID1, 5 and 10 arrays is, that if you want to build the array quickly, make sure to uncheck the 'resync after creating the RAID array box'. Although leaving the NAS to do this makes for a more stable array, it does take around an hour per terabyte of space for the array to complete.
Benchmark Tests

CrystalDiskMark results: RAID 0 (left), RAID 1 (right)

CrystalDiskMark results: RAID 5 (left), RAID 10 (right)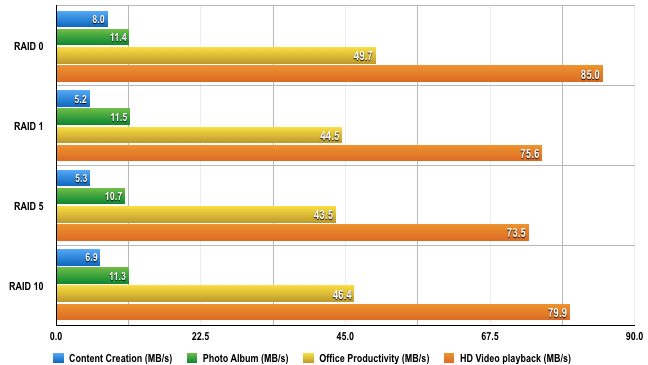 Intel NAS Performance Toolkit results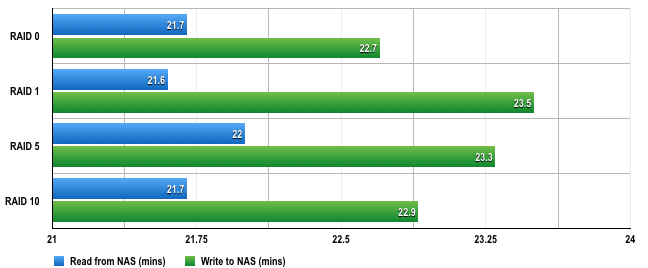 TeraCopy 50GB mixed file sizes transfer times
To test the LS441DE I loaded it up with 4 x 4TB WD Red Pro hard drives and ran CrystalDiskMark and Intel's NAS Performance Toolkit.
I also used Codesector's TeraCopy utility to give a MB/s and time for transferring a 50GB (28,523 files) to and from the NAS.
Despite having a slightly faster processor the LinkStation LS441DE is not quite as nifty as the 4-bay Thecus N4310 I looked at recently. The Thecus has double the amount of memory which evidently more than makes up for this, but costs £100 more.
The only test where the LS441DE consistently performs better than the Thecus unit is the 50GB Write to NAS test particularly in RAID 1, 5 and 10.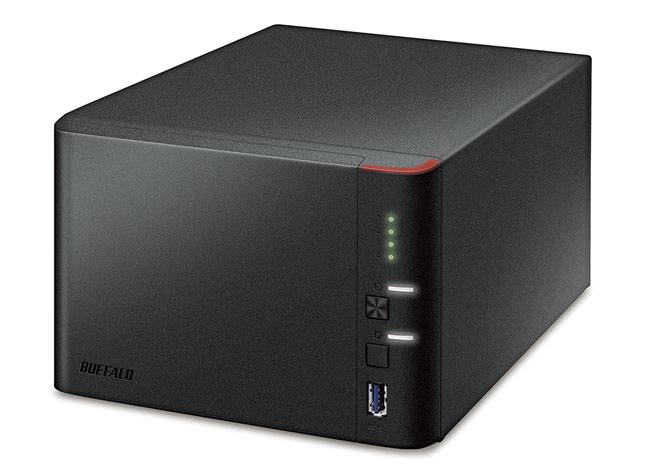 Cheaper than some dual bay NAS boxes
The Reg Verdict
If you have a collection of disks that need a home then, the barebones LS441DE has an attractive price point for a 4-bay NAS. It might not be as feature rich as some of the competition but that becomes a bit of a plus point if you are looking for an easy-to-use, uncomplicated 4-bay NAS as a first-time user. ®

An uncomplicated Buffalo in SOHO: The LinkStation 441D 4-bay NAS box
Easy to use addition to Buffalo's popular LinkStation series of NAS boxes
Price:
£137 (unpopulated), £355 (4TB), £490 (8TB), £590 (12TB), £780 (16TB) RRP