The TREWGrip keyboard is designed for butter-fingered mobile users who are keen to touch type as fluidly on their smartphones as they would on a desktop keyboard.
The keys are positioned on the back of the pad, piano accordion style, allowing you to depress them with the outstretched fingers of your hand, which is firmly clamped around the edge.
You have to learn where the keys are through muscle memory, and as you press a key, a light on the side of the device illuminates, indicating what's been hit.
The top side also has function keys and buttons for the space bar, back space, tab and enter, and these are operated with your thumbs.
Your phone – or any small tablet of up to 7 inches – sits on a high friction pad with magnets behind it. Even with some vigorous game playing, an iPhone stayed in place. The whole thing is sculpted to be very comfortable.
In a quick demo at Mobile World Congress it was impossible to judge how hard it would be to learn to type quickly on the device. The build quality was excellent and it did seem very promising, but then so was the Microwriter.
However, it does seem to solve a very real problem and would be ideal for people conducting street surveys.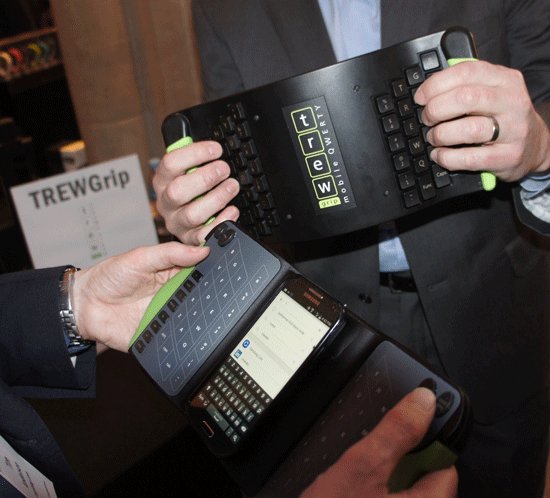 TREWGrip claims it takes the average person 30‐60 minutes to learn, and approximately eight to 10 hours to achieve unconscious competence at 90 to 100 per cent of their flat keyboard typing speed.
A gyroscope and accelerometer control on-screen mouse movement and can be used as game controls. There are games to help you lean to use the device.
It uses the Human Interface Device Bluetooth keyboard profile and so works with iThingies and Android phones, and with full fat Windows but not with Windows Phone.
The unit measures 306 x 149 x 52mm and weighs 450g without handgrips. The company claims a battery life of up to 15 hours of continuous usage and up to 500 hours on standby.
Touch-typing on a mobile while standing does have benefits, but previous attempts to introduce new keyboards have failed to take off, which is why we still use Christopher Latham Sholes' QWERTY design from the 19th century.
TREWGrip is still in the pre-production phase, but it's estimated that it will cost $250 (£165) and will be available in the "early spring of 2015". ®
Similar topics