This article is more than 1 year old
Broadcom offers devs a peep-show inside its switches
API not a view all the way to silicon, but a start
Open Compute Summit When Facebook started down the path of creating the Open Compute Project (OCP), part of its reasoning was that too many vendors hide the underlying silicon from the world of users.
That part of the project seems to be having its desired effect, with Broadcom using the OCP Summit to announce that it's going to give developers API access to its silicon under Facebook's FBOSS operating system and Microsoft's Switch Abstraction Interface (the latter also shown off at the summit for the first time).
Broadcom's OpenNSL APIs, at GitHub here, represents a key step forward in the OCP market – the once fiercely-protecting merchant silicon becoming visible to the outside world through an API.
Broadcom explains that OpenNSL – the Open Network Switch Library – maps "Broadcom's software development kit (SDK) to an open northbound interface, enabling the integration of new applications and the ability to optimise switch hardware platforms".
Currently the APIs only support the StrataXGS Tomahawk and Trident II switches.
El Reg notes that there's still a reasonable distance between the silicon itself and the API, as you'll see in the image below.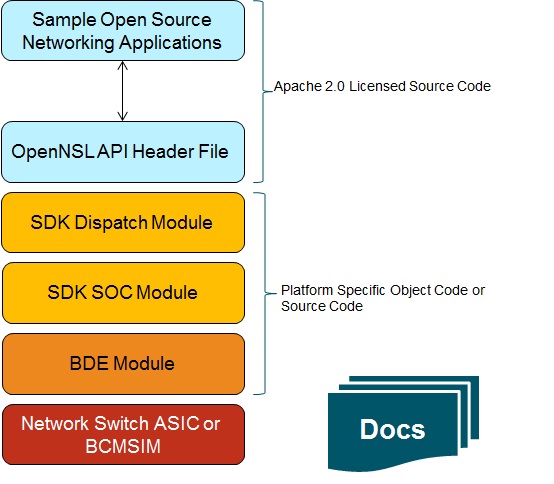 Facebook is, however, pleased enough with the APIs: it's open-sourced an FBOSS agent for the SDK, letting World+Dog take a look at how The Social NetworkTM gets the chip to play nicely.
As well as the OpenNSL APIs, Broadcom is offering reference code, and the package includes BroadView instrumentation for network monitoring and analytics. ®