This article is more than 1 year old
Fashioning the future: Intel works up a sweat and gets butterflies
Checking the pulse of wearable gadgetry
Wearable Tech Show 2015 At the Wearable Tech Show in London this week, it was hard to miss Intel's stand and the sight of champion Brit long-distance runner Jo Pavey sweating it out on a treadmill. It wasn't entirely obvious what she was showing off, as she ran on and on and on.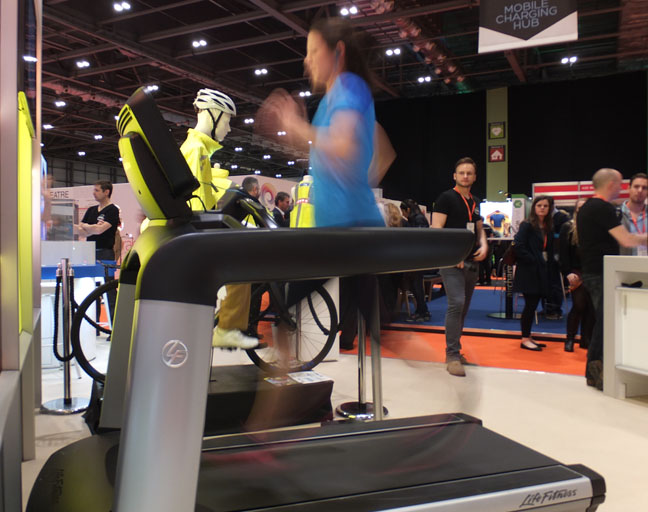 Champion runner Jo Pavey works out with the SMS Audio Biosport
Surrounded by treadmill gadgetry, it turns out we were being treated to a demo of the Intel-powered SMS Audio Biosport earphones.
What makes the SMS Biosport so special is that it monitors your heart rate. So you've nothing to strap to your chest, you just go running with your phone and it syncs with Runkeeper and is charged from the host device. Released late last year, the SMS Audio Biosport costs £130.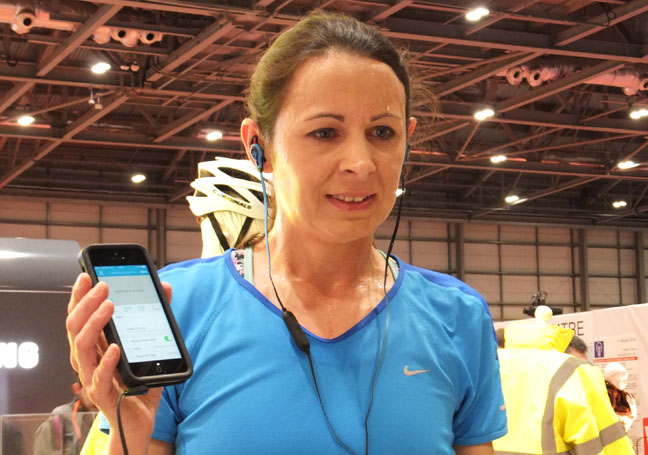 Heart rate monitoring from your earphones
If you prefer a strap on, then Intel's own wearables brand acquisition Basis has the Peak fitness watch that also measures heart rate and sleep as well as delivering numerous notifications for texts, meetings and suchlike.
More intriguing was the strap on being worn by Intel Senior Embedded Software Engineer Cagri Tanriover. Called the Smart Splint, this lightweight cast designed by Osteoid has been modified to accommodate an Intel Edison processor.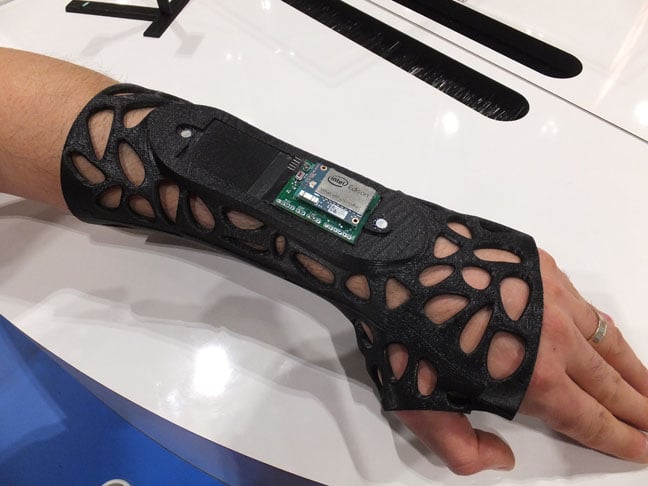 Osteoid cast modified with an Edison procesor to become the Intel Smart Splint
What I would have been shown, had the battery not died, was how it could convey pressure information from within the cast to an app. Tanriover explained one usage was for those with cerebral palsy. Over time the muscles contract to turn the hands inward and the pressure detection can provide an early warning sign to get ready for some botox shots.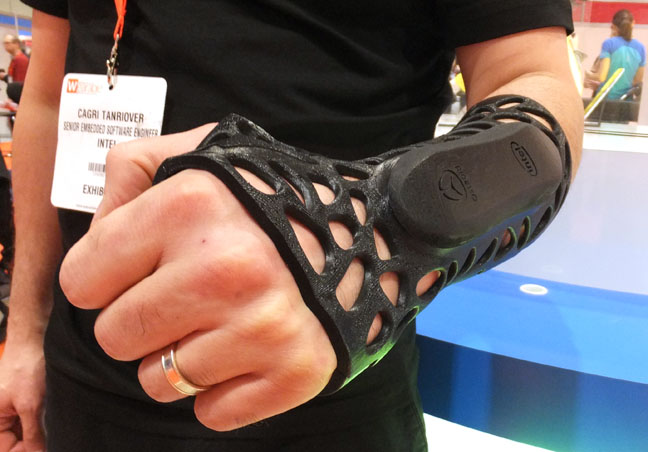 Complete with magnetic cover, the aerated design keeps the itching at bay and Edison may be equipped with sensors for more useful monitoring
Probing for other examples, it seemed that this arrangement was more a solution looking for a problem. Apparently the Smart Splint could be useful to check for post-operative swelling which could be uncomfortable. Why not just ask the patient? Surely if Intel can get earphones to sense the pulsing of a heartbeat in earphones, strapping on an Edison to a cast isn't the most elegant of wearable ideas.
Slow-mo showing of Intel's Butterfly dress by Ezra + Tuba
When it comes to elegance, it seems Intel is not short of ideas - or, at least, the idea of working with Turkish fashion designers Ezra + Tuba seems to add a certain chic to proceedings, with the showing of the Butterfly dress.
Again, it's an Edison initiative but this time the wearer of the dress gets to shower those in the vicinity with paper butterflies. "Ow, my eye..!"
It does seem to be a one-shot trick though, so don't forget to tidy up afterwards. There must be an app for that, surely? ®