One-on-one winners
Despite reasonably glitzy graphics and sound, the first batch of games – coming in at well under 100 megabits – were a little underwhelming in terms of long-term playability. Magician Lord was one of the more promising titles: a frustratingly difficult platformer that nevertheless delivered plenty of novel power-ups and magical zapping – like the weird older brother of Ghosts 'n' Goblins.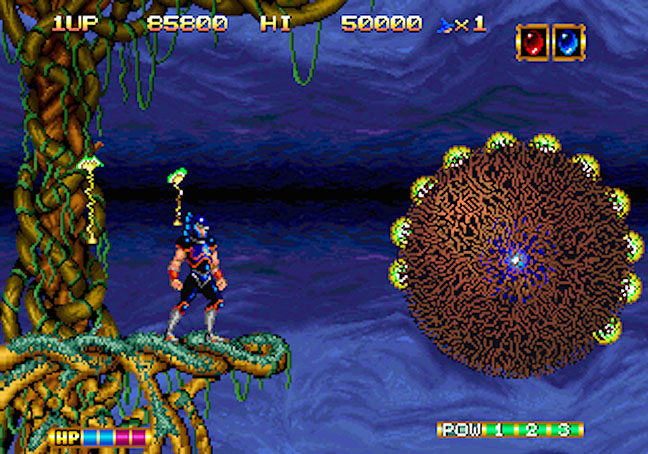 Magician Lord faces up to another boss
Sports titles such as Baseball Stars Professional and Top Player's Golf were OK – and certainly good fun in multi-player – but looking back on them now, it's as though game designers hadn't really discovered how to harness the Neo's true powers just yet.
Come 1991, it was the success of arcade rival Capcom's infamous Streetfighter 2 that spurred SNK on to produce a range of copycat titles that would form the basis for several long running hits. While none would topple Capcom's supreme fighter, these were attention grabbing, audience-pleasing titles, and such dynamic ninja fisticuffs soon gave the Neo its faithful followers.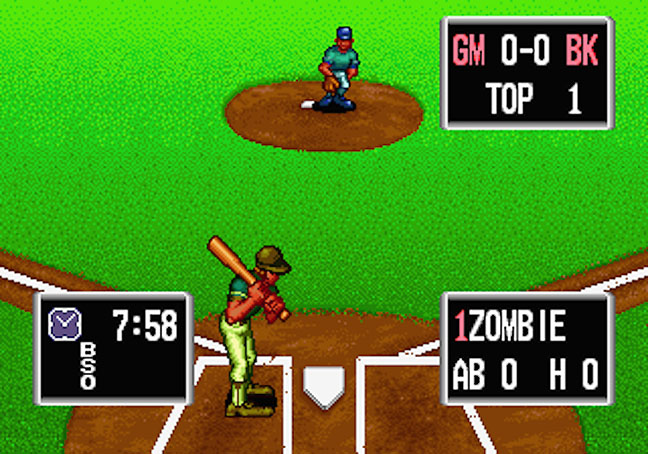 Baseball Stars Professional in-game action
One of the first was Fatal Fury, initially providing the choice of just three characters with which to take on a range of enemies in one-on-one battle across the globe. While clearly derivative of SF2, and not such a refined experience, it was nevertheless packed with colourful animation, joystick waggling excitement and special moves. Numerous sequels and revisions would appear over the coming years.
Art of Fighting took the same principles and dressed them up with Van Damme-like smooth criminals. The bruises on the faces of characters as they became ever more pulverised provided an unsavoury hint of realism that was popular with fans, and special moves were something quite spectacular. Decking an opponent with the 1000-kick move of protagonist Robert Garcia was always a satisfying moment.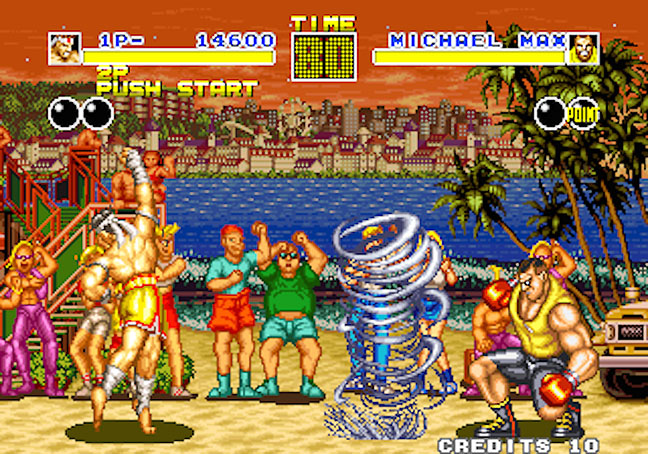 Fatal Fury throws a whirlwind
1993's Samurai Shodown took a more original slant on the format, bringing historical sword fighting so furious that blood death sequences ended up censored in certain home versions. The fast pace lent a mania to proceedings as characters rushed to slash each other to shreds.
There were some great touches like the button bashing lock-ups when characters clashed swords, sometimes losing weapons mid-battle and death coming in a flash. The game must have broken records for character size too: oversized, chain-wielding Earthquake was scaled and zoomed onto screen – and almost didn't fit.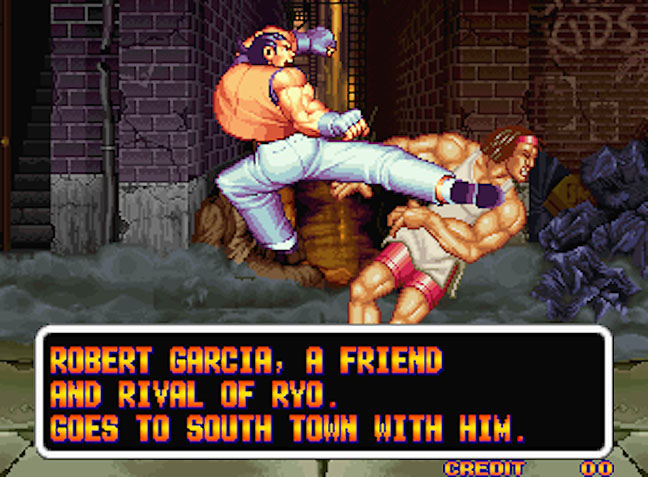 Art of Fighting featured a story... of sorts
Later hits included the King of Fighters series, The Last Blade and Garou: Mark of the Wolves – as SNK honed and perfected 2D fighting games to the nth degree. There has never been – and probably never will be – such a huge selection of the ever-popular game category on any platform.