X factor
SNK attempted a rebirth of sorts with the Hyper-64, a platform that would supposedly provide the grunt for a new era of 3D titles. It was released into arcades with less than ten titles over its lifespan, and discontinued in 1999 having achieved little success. The company also attempted to enter the monochrome handheld market, with another commercial failure: the Neo Geo Pocket.
Come the year 2000, inevitable financial difficulties left SNK to be rescued by Korean corporation Playmore, amalgamating to become SNK Playmore. The bank of intellectual property the company inherited has been of significant merit, with continued new releases on other formats, including iOS and Android. King of Fighters and Metal Slug are still doing a good trade.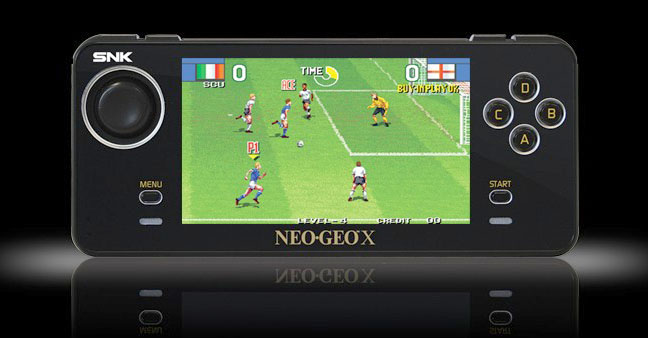 Fun times on the Neo Geo X portable
More recently, the portable Neo Geo X appeased faithful fans with its release at the end of 2012, with manufacturing duties provided by Californian firm Tommo. It came bundled with a docking station, niftily modelled to look like the original AES console, and featuring HDMI and composite video outputs as well as charging the handheld unit itself. A replica of the original joystick was also included, though purists did scoff slightly at its build quality.
This trusty little handheld contained 20 classic titles on its own fixed state memory, with a couple more game bundles becoming available on memory cards. Video output did receive some criticism for being washed out in comparison to the original machine's pin-sharp clarity, which is a little odd considering the advances in video technology since 1990. In any case, the little machine has proved popular with those sensible but nostalgic people who chose not to remortgage for the machine first time round.
The Neo Geo remains a legend in its own lifetime. It's doubtful that any such highly priced system will ever find a place in gamers' repertoires again – but it was uniquely fun while it lasted. The bonkers world of Neo Geo lives on in the hearts and minds of many, and the collectors market for the original system only proves that – unpredictably – there was a little intrinsic value in those super-sized cartridges after all. ®
Released 1990
Developer SNK
Platforms Multi-Video System (MVS) and Advanced Entertainment System (AES)