This article is more than 1 year old
BOXing clever: Data biz embiggens sales - then its shares slump
Full year losses deepen by almost a tenth
Box, the freemium business data sharer, saw satisfying revenue growth and controlled losses for its fiscal 2015 fourth quarter and full year, although it disappointed analysts, whose comments prompted a 17 per cent share price fall.
Highlights:
Q4 FY 2015 revenue was $62.6m, up 61 per cent from $38.8m a year ago
Q4 FY 2015's net loss of $46.7m, 7.8 per cent more than the year-ago's $43.4m
Full FY 2015 revenue was $216.4m, 74 per cent higher than 2014's $124.2m
Full FY 2015 net loss was $182m, 8 per cent deeper than 2014's $168.6m
This is no hyper-growth story, but it is strong growth with a pattern of controlled losses as CEO Aaron Levie builds out his service offering technology company and its infrastructure.
Sales and marketing spending is being reined in; full year 2014's $47m rose 18 per cent to $55.4m, much lower than the revenue raise over the period.
Also, total net cash used in full year 2015 operating activities totalled $84.9m; it was $91.8m in full year 2014.
Box has passed the 45,000 global customer count, notching up (among others) AstraZeneca, General Electric, eBay, Nationwide, Toyota, and Warner Music Group. The paying ones include more than half the Fortune 500 and over 22 per cent of the Global 2000; yet it's still loss-making despite that blue chip roll-call.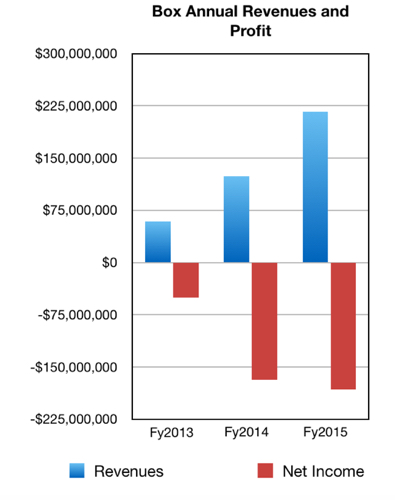 Box's annual revenues are increasing much faster than losses
There's no reason to suppose that, given current progress, Box can't emerge into profit in its fiscal 2017 year, as long as it can retain existing customers and gain new ones by having better offerings than public cloud and enterprise storage/sharing providers.
In the last year, it's introduced better security, including encryption key management and a network of security partners, retention policies and partners to satisfy its customers regulatory authorities, and vertical market offerings such as Box for Financial Services.
It has also entered Microsoft's Cloud Storage Partner Program, "enabling the Box content platform to support native integrations with both Office for iPad and iPhone, as well as for Office Online".
Partnering Microsoft historically has paved the way for Redmond to produce its own competing offerings. Box will have to box clever and hope Satya Nadella's new broom signals the end of Microsoft's previous partner-then-eat-the-partner's-business style of doing business. ®