Disk array devastation: New-tech onslaught tears guts from trad biz
Winter is almost upon us, says EMC
---
An EMC chart shows a steep decline in legacy SAN drive array sales coming, with hyperconverged, software-defined and all-flash array storage growing to compensate.
William Blair analyst Jason Ader attended the March 10 EMC Strategic Forum event and mailed clients a summary of what he learnt.
EMC management quoted some IDC Research figures, which suggested the $26bn external storage systems market will grow at three per cent CAGR from 2014 to 2018. Within this period, "traditional stand-alone hybrid systems are expected to decline at a 13 per cent compound annual rate", while "new systems are expected to grow at a 22 per cent compound annual rate (new systems + converged at a 19 per cent CAGR)".
Trad stand-alone hybrid systems are VMAX and VNX arrays. Converged systems are the Vblocks from VCE. New storage systems include examples from XtremIO, ScaleIO/ECS and DSSD. Hyperconverged systems (VSEX BLUE) and scale-out NAS (Isilon) will also grow.
EMC sees the market moving "toward converged and hyperconverged systems, all-flash arrays and purpose-built back-up appliances".
Stifel Nicolaus MD Aaron Rakers, also at the event, differed on the decline rate, writing: "EMC estimates that 2014-2018 the traditional hybrid (HDD-based architecture) storage systems will decline at a 5 per cent CAGR (e.g., VMAX, VNX, etc.)."
Here's an Ader-supplied chart representing the changes: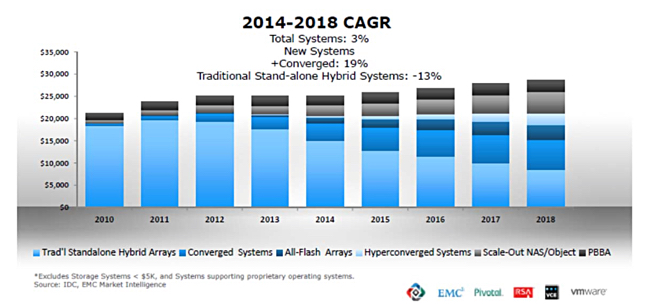 EMC's trad SAN doom chart. PBBA = purpose-built back-up appliance.
If this EMC view of traditional SAN storage array sales declining is correct, then it will affect every other vendor selling them, including Dell, Fujitsu, HDS, HP, IBM and NetApp, to name the most prominent.
Unless these vendors are represented in the growth categories of the market, their storage system sales will decline in lockstep with this trend. Some are already showing declines in storage system sales, such as IBM and NetApp.
Rakers noted EMC saying there would be a software-only version of the VNX due later this year.
Attendees at the event heard that the DSSD product will involve a 5U enclosure being a "direct-attached API-based, PCIe-based storage shared appliance". Data will move from the device to server hosts across a PCIe shared fabric.
Inside the enclosure there are 36 hot-swap proprietary flash modules, each containing 512 flash dice. EMC buys in the raw NAND and flash controllers but uses its own firmware to get "10x the performance and 5x the reliability of utilising the same NAND Flash as others, given its firmware capabilities".
EMC has more than 600 customers using Isilon arrays for analytics within a 5,800+ customer base. A software-only Isilon product is also due later this year. ®