This article is more than 1 year old
You kip kit: The Internet of Stuff innovation snooze-a-thon
The big sleep awaits us all
Wearable Tech Show 2015 When it comes to fitness, wearable tech has found a natural home but it's not all about tracking your steps, calorie intake and heart rate. A wander round the Wearable Tech Show in London this week could easily convince you of precisely the opposite.
A growing range of gadgets is literally getting into bed with the fitness fanatics, something that should satisfy the inner couch potato in all of us.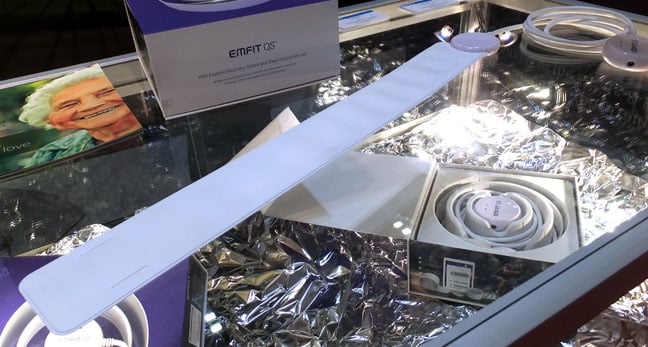 Emfit QS heart rate variability sleep monitor
A good night's sleep isn't only what we need to get us through the next day without being grouchy – but for those in training, it's essential to restore the body for the workout schedule ahead. Emfit's new QS heart rate variability sleep monitor assesses how rested an athlete is and determines how fit they are to train.
Curiously, the monitor itself isn't worn but lies under a foam or memory foam mattress. The HRV monitoring isn't just counting the heart's beats per minute, but examines the variation between each beat. As Emfit's sales veep Matti Lamponen explained, during sleep irregular timing intervals from beat to beat are measured to give an indication of how stressed the athlete's body is and how rested it has been overnight. As the Emfit QS only works with one person in the bed, there shouldn't be any confusion over restless sleeping patterns.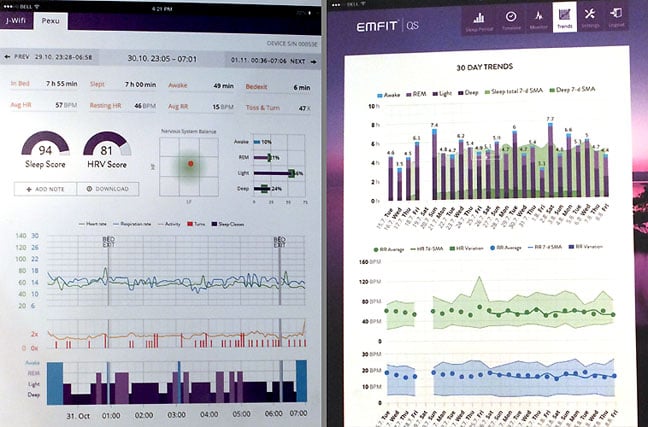 Let your trainer worry about the stats while you sleep
The athlete or trainer can examine the stats provided as HRV-RMSSD (root mean square of successive differences) as well as information on REM, Light and Deep sleep patterns. The app even works out a nervous system balance condition. Announced in 2014, it went on sale last month and costs €250, around £180.
The Finnish company also uses its tech to provide monitoring for the elderly with the Safebed to check if your slumbering senior has got out of bed yet. Surely there's a market for this among parents with teenaged kids too?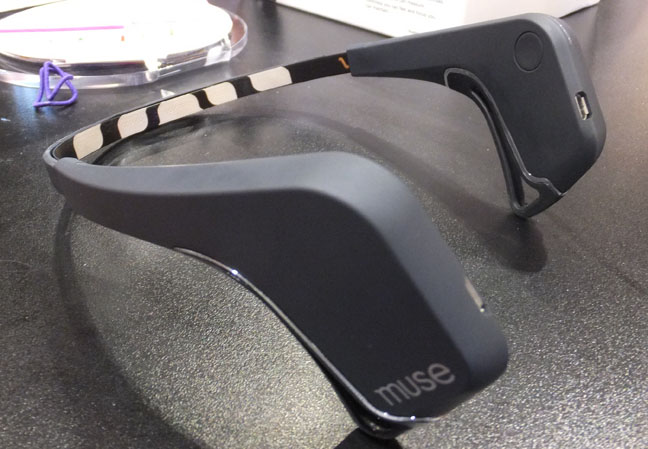 InteraXon's Muse: brain sensing headband
Getting its UK launch at the show was InteraXon's Muse – a gadget focused more on relaxation than sleep. Touted as a brain sensing headband, it's designed to stop your mind from wandering by providing a focused brain training exercise. It's a guided meditation of sorts, as you not only wear the headband but headphones too that talk you through different stages of relaxation and prompt you if it senses you're wandering off.
Using Bluetooth, the headband is linked to the Calm app for iOS and Android that does all the processing from its various sensors that detect Alpha (relaxed), Beta (thinking), Delta (sleeping), Gamma (concentration) and Theta (relaxation and visualisation) waves. The app focuses mainly on Alpha and Delta waves.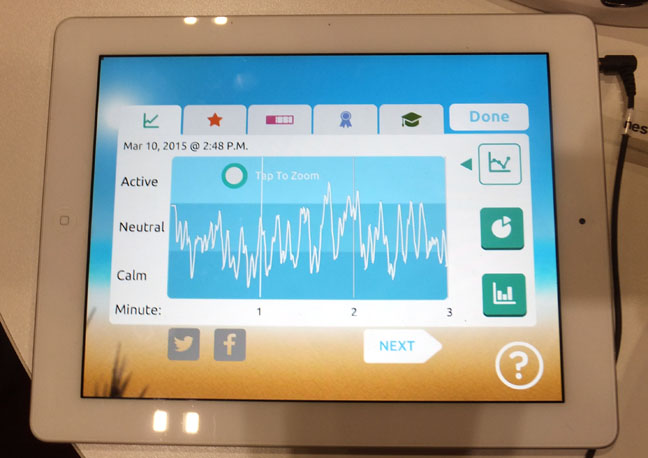 Mapping the senses with Calm, the companion app for Muse
The idea is that the brain training routine offered by Muse lowers stress, and delivers a calmer mind with improved recall and concentration. Well, that's the theory – it'll cost you £240 to buy a Muse and find out – perhaps not such a calming thought.