Want that awesome new Apple TrackPad? Don't get a MacBook Pro
Don't try to repair it either, unless you want a gluey mess
The trackpad in the new version of Apple's MacBook Pro may not be the new-fangled technological marvel that CEO Tim Cook said it would be, say analysts.
The teardown specialists at iFixIt say that according to their initial examination, the trackpad featured in the new MacBook Pro is an array of magnets and strain gauges, which doesn't sound like the same design as the Force Touch trackpad that's coming in the new, ultra-skinny MacBook.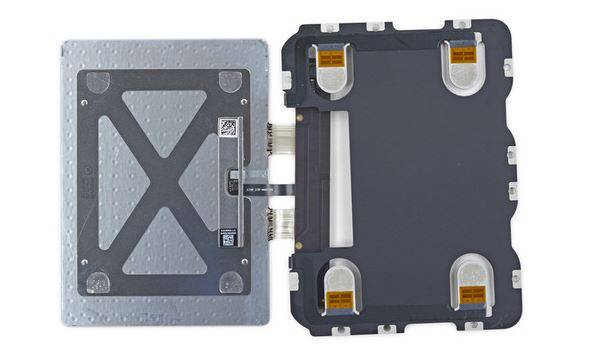 The guts of the MacBook Pro trackpad
"While the MacBook-to-be looks like it's going to feature a weight-saving 'I' shape, with the four springy force sensors jutting out from a central beam, our teardown revealed that the new 13in Pro's implementation is quite different," the teardown house writes.
"A solid aluminum plate, with four springs punched out of it. Heavier and beefier, and perhaps technologically completely different – we'll just have to wait for the MacBook's release to see."
Cook described the latest MacBook's new trackpad design as part of an effort to "reinvent the notebook." Apple plans to ship that model next month, but in the meantime, it is putting out updates to both its high-end MacBook Pro and low-end MacBook Air models.
iFixit gave the new MacBook Air a 4/10 repairability ranking, noting that while the components are easy to access, many parts are proprietary and soldered to the logic board. The MacBook Pro, meanwhile, received a terrible 1/10 ranking for Apple's heavy-handed use of glue and solder, making components all-but-impossible to access and replace by anyone but Apple technicians.
Such designes have left Apple and iFixIt on less than the best of terms, these days. Cupertino's policy of making its products difficult for users to service has drawn the ire of the DIY how-to site, which makes its bread and butter selling users components to self-service their own devices. ®