BBC websites GO TITSUP – Auntie blames 'internal system failure'
Mystery cockup hits Beeb fans
Updated The BBC is suffering a major outage, after its websites – including News and the public service broadcaster's iPlayer system – buckled in the past hour.
It's unclear, at time of publication, what was behind the Beeb's technical woes.
An unknown number of people attempting to visit various online BBC services were greeted with a series of messages, such as "404 not found" or "Error 500".
Auntie said on its official Twitter BBC News feed:
Apologies, as we are experiencing technical problems on the BBC News website. We are working hard to resolve the issues.

— BBC News (UK) (@BBCNews) March 14, 2015
In the past hour, a number of readers have been in touch about the outage. Reg reader Robert told Vulture Weekend:
Experiencing huge slow downs and issues on the BBC website from 12:45pm today affecting most pages including BBC Sport page and BBC Weather pages.

BBC Sport football seems to be stuck in a loop and can't select anything Premier League and no league tables displaying in the Scores, Results and Fixtures.

BBC Weather ain't fairing to good either ... no detailed breakdown information with the nice message saying they're having problems ... they got that right!

And navigating back to the main site produced the almighty Error 500. Nice!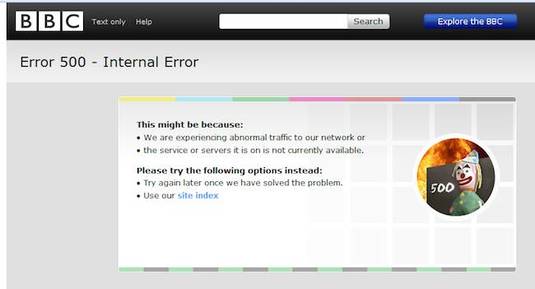 The Register sought comment from the BBC. We asked if the problem was an internal technical blunder or the result of a Distributed Denial of Service attack, but the Corporation declined to comment beyond confirming that it was tackling the cockup.
"We're aware of an issue affecting some users of parts of BBC Online. We're looking to resolve this as soon as possible," an Auntie spokesman told us. ®
Update
The Beeb's online service has apparently recovered from its earlier titsup status.
"The majority of sites are now up and running," the BBC's spokesman told El Reg. He blamed the outage on an "internal system failure."