This article is more than 1 year old
Our Endless Numbered Days, Junk DNA and Exotic England
Best debut novel this year
Page File El Reg bookworm Mark Diston looks the latest from three female authors in the publishing world covering very different areas. Making a very impressive debut in fiction is Claire Fuller's fantastical tale of survival. Nessa Carey explains some of the lesser known, yet fascinating facts of bioscience, and Yasmin Alibhai-Brown takes a look at British culture and its growing diversity.
Our Endless Numbered Days
Claire Fuller is an artist who only began writing aged 40. Our Endless Numbered Days is her debut novel and is a modern day fairy story which tells the tale of eight-year-old Peggy Hillcoat, who is taken away to live in a hut in a German forest by her survivalist father.
The story is told in a matter-of-fact manner, but there is always an underlying fantasist element such as when the father addresses his daughter as a series of fairy story heroines:
"Sleeping Beauty? my father asked, and turned to look at me. "Little Blue Riding Hood? I sat beside him on the log and poked at the fire with a stick. He pulled the balaclava off my head by its ears and flung it behind him toward the tent.

"Rapunzel!" my father exclaimed."Rapunzel, Rapunzel, let down your hair!" He was suddenly loud as if someone had turned up the volume. There were birds and wind in the trees, and in the distance I could hear the river, a neverending chatter, like a crowd of faraway people."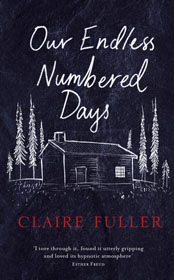 Peggy/Punzel's father tells her that everyone has died and that they are the only two humans left. However the original story takes place in 1976 and is interspersed with a flash forwards to 1985 where a seventeen-year-old Peggy has emerged from the forest and is reunited with her German pianist mother and brother. The tale of her time in the wilderness and how she uncovers her father's lies and their consequences make up the main storyline of this novel.
And I have to say Our Endless Numbered Days is an excellent work. Claire Fuller possesses a refreshing understated literary style, she is an accomplished and complete writer. There are few eminently quotable passages, yet neither is there any slack.
Many writers have approached the fairytale as modern fable, but few have done it as successfully as Fuller and without the contrived and elevated literary language that even such respected writers in the genre such as Angela Carter have succumbed to. Fuller seems just as smart, but not as desperate to prove it – and the transcendental sections are such a rare species they really lift off such as this as when prodigal daughter plays Liszt to mother:
"I pressed the keys once more, harder this time, and let my fingers follow the flow and pattern they knew by heart. I was aware of Ute turning towards me, of a sharp intake of breath which she held while I played, but I closed my eyes and went into the music. And when Ute propped open the piano lid, the room was filled with a magical sound and I knew the music came from somewhere real and true".
So how good is this? The best debut novel by a long way so far this year. Indeed, better than most of Angela Carter. Claire Fuller reminds me of a latter-day E.T.A. Hoffman; she is that good and I look forward to hearing a lot more about her.

Author
Claire Fuller
Title
Our Endless Numbered Days
Publisher
Fig Tree
Price
£14.99 (Hardback), £9.49 (eBook)
More info
Publication web site