Our Endless Numbered Days, Junk DNA and Exotic England
Best debut novel this year
---
Exotic England: The Making of a Curious Nation
Yasmin Alibhai-Brown is a regular Independent columnist and the author of three previous books about multicultural Britain. Exotic England is her history of the experience of the English with exotic foreigners, especially through empire.
Although she writes that "Englanders of all classes are attracted to and enlivened by enigmatic strangers and exotic cultures," she goes on to observe that the English are "instinctively conservative [and] need the conformity and security of their homes and hearths."
Alibhai-Brown came to the UK in 1972 as a Ugandan Asian immigrant whose family had been expelled by Idi Amin. She inherited her passion for Shakespeare from her father, who never spoke to her after she played Juliet opposite a black Romeo. "Shakespeare, England's greatest son, pulled us closer together and ripped us apart".
She puts an unashamedly positive spin on UK multiculturalism, and why shouldn't she? It has worked very well for her. Yet there are too few disaffected voices in this book such as Guardian journalist Seamus Milne, who writes: "Modern Britain has failed to recognise the empire for what it was – an avowedly racist despotism built on ethnic cleansing and ruthless exploitation".
That said, it is a work packed full of facts you didn't know, such as the Chartists and the Cato Street conspiracy having black members.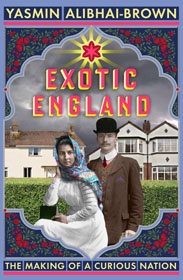 Curiously, the same criticism could be levelled against this book as those the author attaches to Cornelia Sarabaji. Indeed, both could somewhat ungenerously be regarded as "temperate native individuals who were unthreatening and made the English feel good about themselves".
Ms Alibhai-Brown's book is London-centric and middle class. I don't think her utopian vision is so accurate in the provinces or amongst those on whose behalf she paraphrases Kipling: "The poor little street bred people that vapour and fume and brag".
Yet there are many insightful interviews. Jordanian novelist Fadia Faqir observes: "The English, they say they don't like immigrants, but they care." Alibhai-Brown includes other pertinent and amusing quotations such as this from William Cobbett on miscegenation: "It is, I say it with sorrow and shame, peculiar to the English".
It is interesting to note that even Daily Mail editorials from the distant past used to be more eloquent and poetic than today's offerings: "Even the most sentimental will feel the time has come to stop the abuse of this country's hospitality by foreign malefactors". Other pearls of wisdom abide, such as this from Jamaican writer A.G. Bennett: "Neighbours are the worst people to live beside in this country".
Exotic England is a fascinating work and even warms the heart of an unreconstructed pessimist like me. Such works do not exist in a vacuum, however, and while I cannot dispute Yasmin Alibhai-Brown's vision, it does seem sanitised and may polarise the debate. Don't expect to see schoolkids shipping out to ISIS, the UKIP mentality of Middle England or too much human stupidity or ignorance.
Alibhai-Brown's Anglophilia is a welcome relief from the doom merchants who usually write about the English. This book confirms the idea of nation and nationality as a relative and fluid phenomenon. This is, however, a one-sided work. Alibhai-Brown's uncritical acceptance of the cult of Shakespeare is typical of a besotted Anglophile, whereas for a peasant brought up within spitting distance of Stratford, the bard is part Joseph Goebbels, part head prefect. ®

Author
Yasmin Alibhai-Brown
Title
Exotic England: The Making of a Curious Nation
Publisher
Portobello Books
Price
£20 (Hardback), £12.99 (eBook)
More info
Publication web site