This article is more than 1 year old
We're not sure what it is, but we like it: Lexus NX300h hybrid SUV
£40,000 of style and substance
Vulture at the Wheel Oh, for the days when it was obvious what category a car sat in. You see, I don't rightly know which pigeonhole to try to shove the latest Lexus NX300h into. The closest thing in spirit is probably Nissan's Juke, another style wagon that is part SUV, part four door coupé.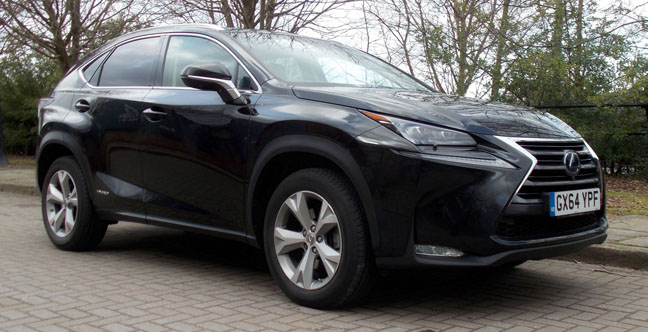 The Lexus NX300h – looks like a Cylon's bonce bucket
Granted, the new Lexus hybrid is bigger, more expensive, more electric and more SUV-ish than the Nissan, but I suspect it is the result of much the same demographic analysis – and aimed at the same sort of customer.
Like the Juke, the NX300h is as much about looks as anything else. Lexus' new corporate grille makes it look positively threatening while the bodywork is awash with ripples, bulges and strakes. I never thought that the 2013 LF-NX concept would drop an acorn so close to the tree but kudos to Lexus for being bold.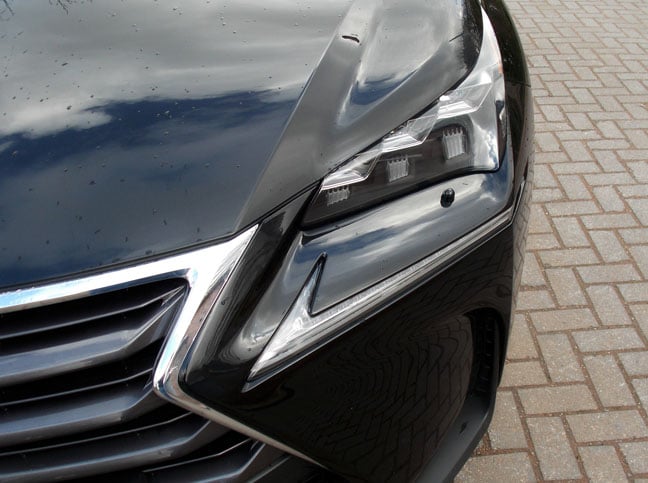 Detailing is busy to say the least
I couldn't describe the new Lexus family conk as pretty but at least there is a now a resemblance across the newer models in the range. That is something long, long overdue. You certainly won't overlook the NX300h in the carpark.
All that styling has done nothing for its wind-cheating credentials though. At 0.33 the NX300h's coefficient of drag is far from Prius-slippery. It seems there is still work to be done squaring the circle of designing a hybrid for both eco friendliness and urban posing.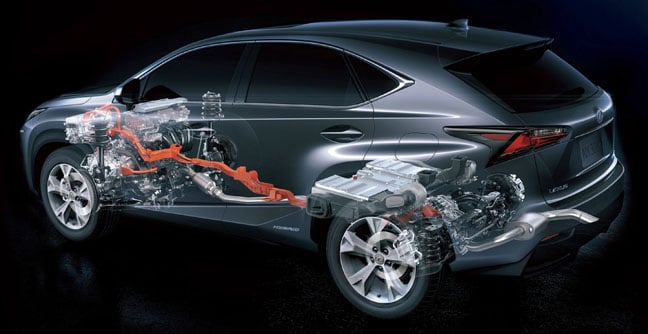 Biblically complex powertrain
One reason the NX300h exists at all is that the floorplan has been borrowed from the rather more mundane Toyota RAV-4. Thankfully, the parts of the NX300h that make it move are rather more interesting.
The drivetrain consists of a 16-valve DOHC 2.5L 4-cylinder Atkinson cycle petrol engine, a 1.6kWh nickel-metal hydride battery and two electric motors. One motor's rated at 50kW, turning the back wheels and the other, rated at 105kW, is plumbed into the "Electric CVT" transmission at the front.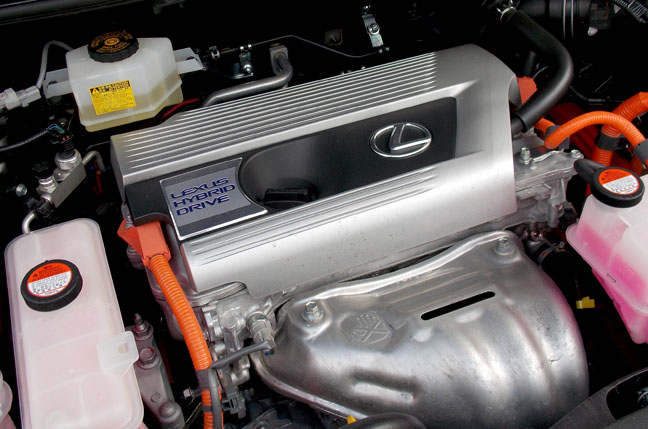 2.5L 4-pot with hybrid gubbins
That equates to a total output of 145kW (195bhp) and 210Nm (155lb-ft) at the front wheels, fuel economy of 54.3mpg and CO2 emissions of 121g/km. I'd take that economy figure with a pinch of salt. After a week of driving my average consumption was a rather less impressive 38mpg.