EMC pulls on its DSSD boxing gloves and crooks a finger at Oracle
Is DSSD set to be the new VMAX?
Comment What we're learning about EMC's DSSD all-flash array project suggests it's going to be the weapon of choice for the company in its war against Oracle's Engineered Systems.
DSSD could well be the new VMAX – a truly enterprise-class reliable all-flash array, but not one with XtremIO and VMAX-class data services.
XtremIO is meant for enterprise, data-service rich, bullet-proof environments, while DSSD is for frighteningly fast, bullet-proof environments with poorer data services.
With large-scale, mission-critical storage moving in EMC's product stable from disk-based and optimised VMAX 3 to XTremIO and to the much, much faster DSSD, some are thinking of it as the new VMAX ... VMAX4, possibly.
Storage blogger StorageMojo's latest post expresses this thought.
DSSD is an all-flash array (AFA) startup, backed by Andy Bechtolsheim and founded by Jeff Bonwick and Bill Moore. EMC bought it in July last year, and development of its product technology has continued since then.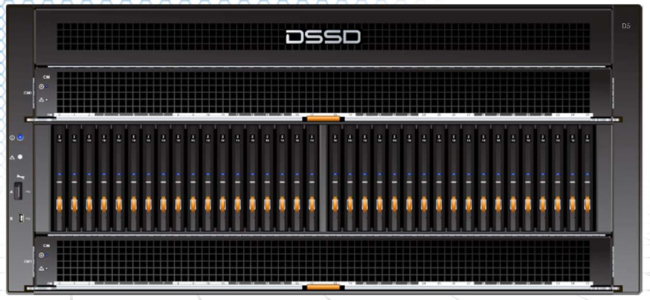 DSSD enclosure with 36 cards running across the front.
EMC president Chad Sakac describes VMAX and XtremIO as exemplifying tightly-couple scale-out architectures. These feature multi-controller grids, shared memory, transactional commits and consistent and linear performance. DSSD is in the same area, we understand.
XtremIO is a networked all-flash array with access latencies in the hundreds of microseconds area.
DSSD is going to have much lower access latency than that, through having in-memory controller characteristics, close to a direct memory interface in the 10s of microseconds area, and much faster than access across PCIe or InfiniBand.
It will have access directly from an application's API. It can be done with NVMe and, we're told, "it could be possible to 'bolt right in' to HDFS, key value stores and others. This is what DSSD does."
Sakac says the DSSD [multi-controller] software stack becomes server memory.
We have learnt recently that the DSSD building block is a 5U enclosure containing 36 hot-swap flash modules (think cards), each with 512 bought-in flash dice and card controllers, which run EMC firmware.
The DSSD Flash Module said to be EMC-designed and built with ten times the performance and 5x the reliability of any other flash drive/module.
A PCIe fabric will be used to move data to/from DSSD to server hosts; ergo Sakac's point about an application's API talking to DSSD with NVMe becomes clearer. It looks to us as if the main DSSD controller SW stack runs in the host server's memory space with data being pumped to/from the flash storage across an NVMe-using PCIe fabric.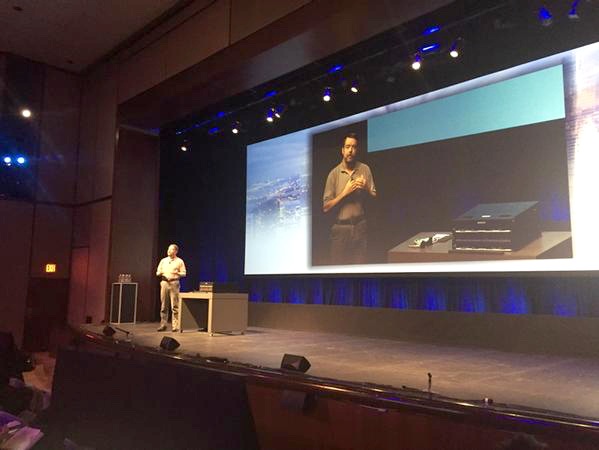 Bill Moore presenting on DSSD at EMC Strategic Forum, March 2015. See the box?
Bill Moore, SVP for DSSD, presented on the DSSD technology at EMC's March Strategic Forum, saying that "Orders of magnitude change things in this industry." He was introduced by EMC II CEO David Goulden who positioned DSSD as providing storage for high-performance platform 3 apps.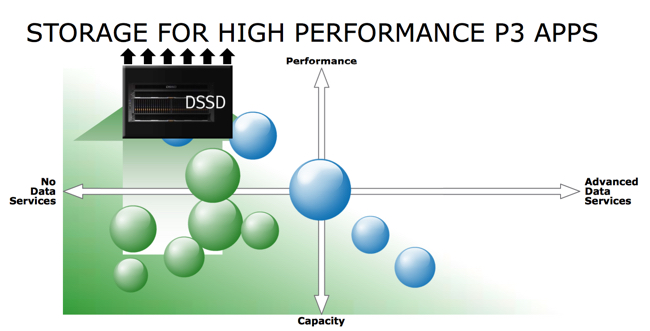 Goulden DSSD slide at EMC Strategic Forum
It would feature rack-scale flash, be price-competitive with dense and low-cost [IBM] flash arrays, and have order-of-magnitude better latency and bandwidth. The DSSD array is "server flash that talks HDFS, key value, etc. to the application".
Moore said the DSSD array would have face-melting performance.
We understand that DSSD could store data as objects in a flat name space, needing no central filesystem-like index; the object name is its address. Such a system could use parallelism inside flash chips for faster overall access.
A "3D RAID [scheme] could eliminate the encoding overhead inherent in advanced erasure codes while providing similar robustness, enabling way-beyond-RAID6 availability."
Research outfit Wikibon's David Floyer wrote: "EMC are claiming that DSSD will deliver terabytes of rack-scale flash storage with an order of magnitude improvement in latency, bandwidth and IOPS. SAP has committed support for the native attachment protocol with its HANA data in-memory database."
Goulden had a summary slide at EMC's Strategic Forum that positioned DSSD in EMC II's storage portfolio: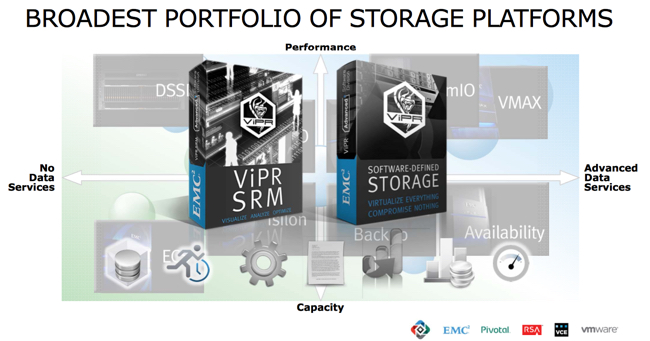 DSSD vs XtremIO and VMAX
This slide says we should not envisage DSSD as a new flash hardware entity inside a VMAX data services-rich software environment. Instead it's at the opposite end of a data services spectrum from XtremIO, and VMAX3.
However ... it could have elements of VMAX array controller code with flash optimisation added to and replacing previous disk-optimisation code.
The performance promises to be awesome and if EMC gets the tech, launch and marketing right, DSSD could have one of the fastest-ever IT product ramps to a billion dollar run rate in history.
Against this background HP's Machine development starts looking to be a very good idea.
DSSD is to be launched later this year, and EMC World in Las Vegas, May 4-7, could be a DSSD orgy.
What's clear is that no other supplier has anything as fast as this DSSD product, at least that we know about. With the close coupling between the DSSD array and servers it's possible that EMC is looking to produce the equivalent of Oracle Engineered Systems, EXADSSD if you will.
EMC versus Oracle; that will be a business fight of predictably strong intensity. Bring it on. ®