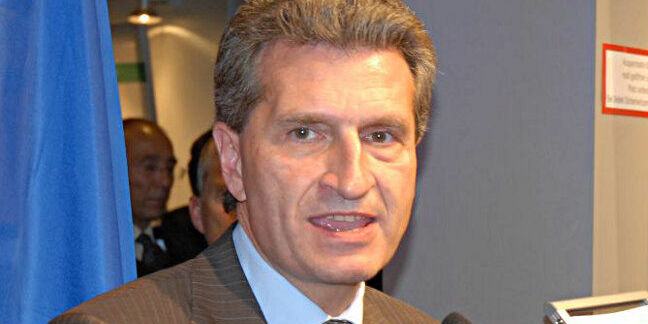 CeBIT 2015 Following another gaffe-heavy week last week when he compared net neutrality activists to the Taliban, Europe's digi-commish Günther H. Oettinger was back on firmer ground today at CeBIT.
The EU Commissioner for the Digital Economy and Society gave a keynote speech at the international conference, which describes itself as "100 per cent business".
Despite his tendency to stray off-brief or give rambling incomprehensible speeches (as at Digital4EU last month) Oetti stuck to the basics for the CeBIT crowd.
"The European Union is the largest market in the world, but there are still 28 fragmented digital markets. We aim for a functioning digital single market with a high standard for data protection," said Oettinger before calling out Google, Facebook and Apple for "sitting in Dublin and sucking the data out of Europe".
Oettinger also cited new rules on roaming and a European definition of net neutrality, both in the proposed Telecoms Package, as steps towards a genuine digital single market.
There was just time for Oetti to promise - for the umpteenth time - a new copyright law in the coming months, before joining the German Federal Minister for Economic Affairs and Energy for an IT-Gipfel working lunch. After that the Digital Commissioner hot-footed it to a board meeting of the Federation of German Industry, followed by discussions with various exhibitors from the industry including IBM, and from start-ups.
He also met the German Interior Minister, Thomas de Maizière, to talk cybersecurity - specifically the Network and Infrastructure Security (NIS) Directive, on which he will shortly enter discussion with national ministers.
Finally Oettinger met the founders of Gründerinnen-Manifest, Brigitte Zypries, German Parliamentary State Secretary and Gesche Joost, Germany's Digital Champion for the European Commission. ®
Sponsored: Practical tips for Office 365 tenant-to-tenant migration