This article is more than 1 year old
Drobo releases range-topping fatter, faster 12-bay bruiser
Oh my, how you've grown
Drobo – the data robot company that almost two years ago merged with Connected Data – has updated its rack-mounted B1200i product, making it both fatter and faster.
Drobos data storage robots are remarkably easy-to-use storage devices which you can self-populate with disks, and which protect data with a BeyondRAID scheme, said to offer security against dual drive failures as well as being more efficient than RAID.
Originally for consumers and then moving to business use, they come in a range of sizes, including four, eight and 12-bay products, the latter coming with the B1200i, which was introduced about three years ago as an iSCSI-access device with both disk and SSD storage in 3.5-inch bays.
Data was tiered across the disk and flash storage, with transactional data going to flash and streaming data to disk.
Drobo sales languished a little in 2012, but the Connected Data merger in May 2013 meant that the product line began to be revamped, with a better four-bay product in March last year. Now the 12-bay B1200i has been updated as well.
It's a hybrid disk+flash system, or disk-only, and features:
Up to 800 per cent boost in BeyondRAID processing with parallelised operations
Storage pool capacity boosted 400 per cent to 128TB, meaning 6TB drives can be happily used
400 per cent increase in volume size to 64TB
Create up to 255 volumes per B1200i
Thin provisioning with so-called SmartVolumes, using storage from a common pool of disks rather than silos of physical disks
VMware vSphere ESXi Hypervisor 6 support
Drobo's senior product marketing director Tony Hampel visited the quote factory to come out with this: "These enhancements easily make the B1200i the most expandable and highest-performing Drobo in history." Yes, we quite agree.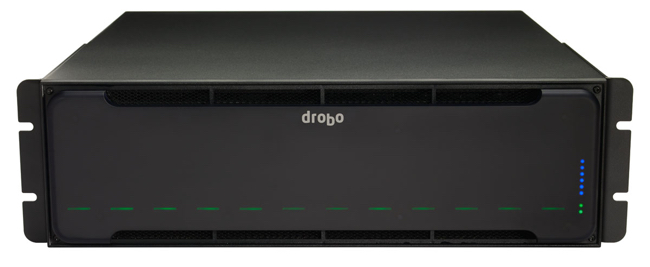 Drobo B1200i
We're told it is the first Drobo product with serviceable modular components. There is "a removable controller card, dual-redundant hot-swappable power supplies and a hot-swappable cooling fan unit".
The B1200i supports Seagate 6TB Enterprise Capacity disk drives. The flash acceleration in hybrid configs uses 720GB SSDs and data tiering start automatically as soon as the OS detects an SSD has been inserted in a drive bay.
Use the B1200i in a small business for a scalable backup server or as storage for a server virtualisation cluster. It's certified for VMware vSphere, Symantec Backup Exec and Veeam Backup environments.
Existing users will no doubt love the capacity and speed upgrades. The 128TB storage pool means that coming 10TB disk drives could, in theory, be supported.
Could we see 24-bay Drobos in the future? This is a company that focuses on particular markets and it may be that 24-bay storage boxes take it away from its comfort zone. We'll have to wait and see.
The B1200i is available now from Drobo channel parters and MSRP prices are:
B1200i with no disks: $3,999
B1200i Hybrid with 36TB HDD and 720GB SSD: $8,499
B1200i Hybrid with 48TB HDD and 720GB SSD: $12,599
B1200i with 72TB HDD: $13,799
®