Nvidia tears wraps off GeForce Titan X (again) and $10,000 GPU brain for DIY self-driving cars
Hardware teased at games conf – plus AI dev kits
---
GTC 2015 Nvidia CEO Jen-Hsun Huang confirmed the arrival of the GeForce Titan X just a few minutes ago today, dubbing it Nvi's fastest single-chip GPU to date. He also showed off two development kits: a $15,000 deep-learning system, and a $10,000 DIY self-driving car brain.
The US chip maker's boss was speaking at this year's GPU Technology Conference in San Jose, California.
The Titan X, codenamed GM200, is a 28nm Maxwell GPU with 12GB of GDDR5 Hynix RAM, 1GHz clock speed, 336GB/s memory bandwidth, 8 billion transistors, 3,072 CUDA cores, 7TFLOPS (single precision) and 0.2TFLOPs (double precision) performance, and a PCIe 3.0 x16 interface.
The 601mm2 die features 192 texture mapping units and 96 raster units, a 384-bit memory bus, 3MB of L2 cache, and a thermal design power (TDP) of 250W. It has the usual DVI, HDMI and three display ports.
The card was hinted at during this year's Games Developer Conference in San Francisco. You'll need a Titan Z if you want double-precision math performance.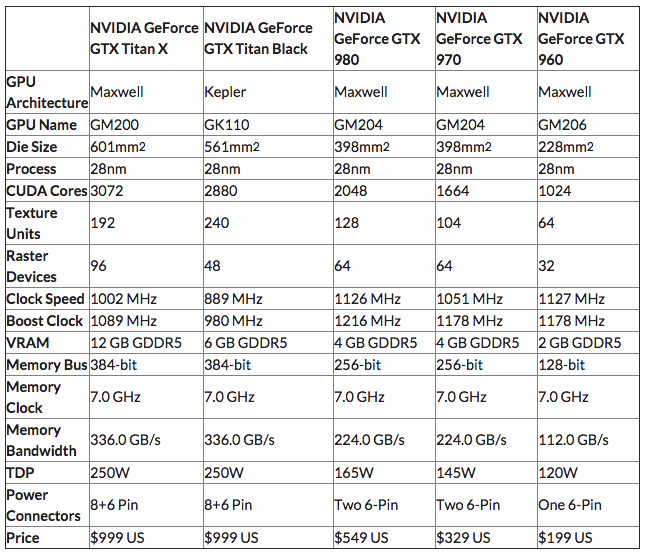 How the Titan X compares to other Nvidia hardware (Source: wccftech.com)
Nvidia is pitching the Titan X not just for games, but also for deep-learning processing, and has priced it at $999 like previous Titan cards.
In other developments:
Awesome Drive PX from @nvidia at #GTC15 #NVIDIAGTC #driverlesscars #technology pic.twitter.com/iFRTRDsIfK

— Jean-Luc Desroches (@AlphaDaemon) March 17, 2015
The chip maker is also touting a Digits Devbox, a PC running Ubuntu GNU/Linux and four Titan X cards, for engineers to produce deep-learning software. It will be available in May 2015, and cost $15,000. Nvidia is building them one by one, aimed at experts playing with machine learning, rather than gamers wanting to play Crysis.
Nvidia's 2016-slated Pascal GPU will have 32GB of RAM, 3D memory, three times the memory bandwidth of the 2014 Maxwell, the Nvlink interconnect, and mixed precision [PDF].
Nvidia is also getting pretty excited by smart-cars as well as deep-learning. "The future of your car will be digital displays, touch, and gesture. Your car will be one delightful computer running down the road," Huang said.
Huang again outlined the Nvidia Drive PX self-driving car, that senses its surroundings on the road, plans ahead using decision-making deep neutral network algorithms, and controls the vehicle – steering, braking, accelerating, and warning. It has two Tegra X1 GPUs, 12 camera inputs, and can process 184 frames a second using 630 million neutral network connections. The Drive PX circuit board will go on sale in May 2015, and cost $10,000 – it's aimed at engineers as a DIY self-driving car kit (like Intel's board from last year).
SpaceX and Tesla supremo Elon Musk joined Huang on stage to describe self-driving cars as "elevators." Press a button, and go.
Musk repeated his fears of artificial intelligence, not the sort of machine learning in a smart air conditioning unit, but "big intelligence." ®