Budget Day 2015 Chancellor of the Exchequer George Osborne vowed today that a Tory government would bring speedier internet connections of 100Mbps to most of Britain – a bold promise given the Coalition's delayed deployment of superfast broadband during the current term.
Number 11's occupant made his final pre-election budget statement by conservatively retreating from the government's austerity plans, with a speech that oddly evoked Trainspotting's "choose life" opener.
Sadly, Osbo didn't utter the words "Choose a fucking big television", but he did talk about internet-connected fridges.
The Chancellor promised to pump £40m into the development of Internet of Things tech. According to the Budget report (PDF), this cash will be chucked at "large scale demonstrator programmes, business incubator space and a research centre."
IoT funding will focus on healthcare, social care and smart cities, the Treasury added.
Osborne used the IoT announcement to take a predictable jab at Labour leader Ed Miliband.
"We'll invest in what is known as the Internet of Things," he said, before quipping: "To use a ridiculous example of how this works, should someone have two kitchens they'll be able to control both fridges from the same mobile phone."
Osbo also confirmed the government's widely-reported plans to bring in a so-called Google tax ahead of the General Election.
The supposedly multinational-whacking "diverted profit tax", as Osborne prefers to call it, will be brought in next month. He said it would tackle big firms "who artificially shift their profits offshore."
Meanwhile, the government came out as fans of driverless cars by agreeing to sling £100m at development of the tech in Blighty.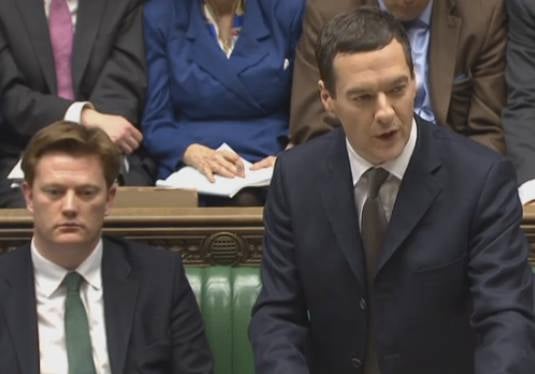 Don't look so glum, Danny Alexander, this Coalition mess is nearly over
Returning to the all-important theme of internet infrastructure (among readers of these pages, at least), thin-lipped Osbo was tight-lipped about exactly how the government would bring in broadband download speeds of up to 100Mbps for most Brits if re-elected in May.
For now, it remains merely an "ambition".
The government does plan to extend its broadband connection voucher scheme to 50 cities at the beginning of April. Separately, it will pony up £600m to "support the delivery of the change of use of 700MHz spectrum."
In booze news, Osborne once again knocked a penny off a pint of beer; the price of spirits and cider was cut by two per cent; and wine duty was frozen.
Corporation tax will drop by one per cent to 20 per cent come April. The government also plans to abolish the annual tax return.
Osbo added:
Millions of individuals will have the information the Revenue needs automatically uploaded into new digital tax accounts.
Let's not look too closely at this government's, er, "digital" track record, then.
The Chancellor claimed Britain was "walking tall again". But growth figures for this year were only marginally better than previously predicted, with 2015's GDP now expected to reach 2.5 per cent. ®