Mainstream viewing
"According to the latest GfK market data, 4K is really accelerating," confided Andy Mackay – no, not the Roxy Music sax player moonlighting, but LG UK's commercial director of consumer electronics.
In 2014, 4K was officially tracked at just over 200,000 units in a 6.5m UK market, he says. In January, this jumped to 10 per cent of the UK telly market. This consumer boom is being driven by an expansion in the number of 4K sets available which now start at 40-inches.
The mood of trade visitors to LG's product preview was undeniably upbeat. "The TV market is reasonably buoyant again," cooed Mackay. "GfK is on record as saying 2015 will be the year of a million 4K units. I think it'll be even higher. Over a million TVs in a six million unit market will make 4K a mainstream technology."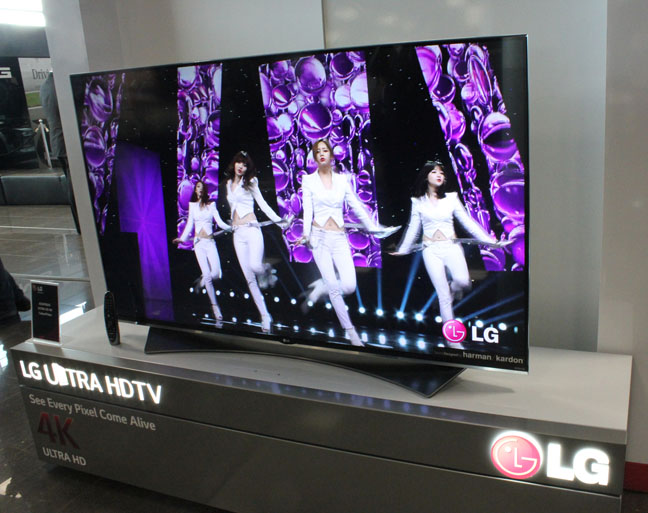 And of course there are still cheaper LED panels to be had such as the LG UF950V UHD T
Naturally, LG has grand plans to woo high street buyers later in the year. The company is planning to launch a 55-inch 4K OLED at the Berlin IFA technology fair this September, just in time for the pre-Christmas buying season.
It'll slot into the same price point as the brand's current Full HD model, the £2,500 EC930V. Also debuting at IFA will be LG's first flexible 4K OLED screen, able to go flat or curved at the touch of a button (suggestions as to the point of this are welcome in the comments below).
Even more dramatically, the company says it will be pulling the plug on LED TV R&D altogether from next year.
"Our R&D going forward will be moved to OLED panels from 2016 onwards," confirmed Robert Taylor, LG's UK home ents product guru."You'll start to see less in LED and more OLED innovation."
It makes sense, he reasons. "The technology is so much easier to work with."
The R&D shift follows a $600m dollar investment in its South Korean Paju panel production plant.
As a consequence, Taylor promises "a revolution in terms of number of units and scale," saying: "We want to make OLED more affordable and more readily available."
Even once notorious OLED yields are now being described optimistically. "We're now in a very different place to two years ago, when the yield rates were really quite low," Mackay told me.
"Investing in our Paju plant, in our production structure, has had a big impact in volume. One of the key things in relation to that is the UK has been defined as a lead market for OLED outside of Korea. We were TV advertising OLED in the UK last December. That wasn't accidental. It was about raising awareness before volume product arrives in March."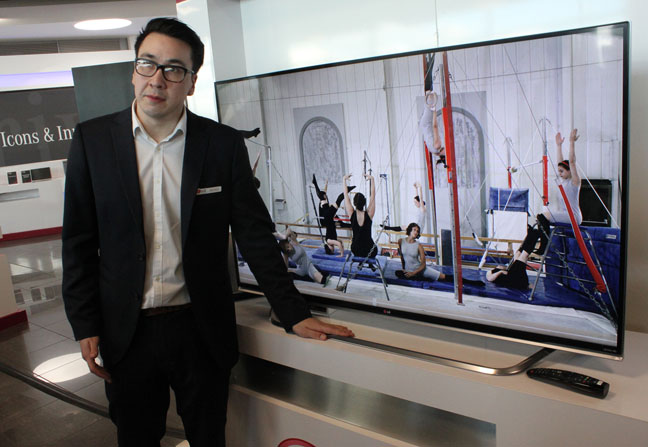 LG's Robert Taylor talks 4k-ing TV
As always, OLED's biggest challenge will be timing. It's always seemed out of step with the rest of the TV industry. For the past couple of years, OLED Full HD TVs have found themselves competing against similarly priced (or even cheaper) 4K LED models.
This year, just as 4K OLED rolls out, next-gen TV banter is shifting to HDR. As yet, LG doesn't have any HDR OLED solution, although it's certain to make a pronouncement of some sort at IFA. The brand showed an HDR prototype at CES, but this looked far from match fit.
Dollars to doughnuts though, the TV landscape will look very different at the end of this year than it does now. And OLED TVs really could be the next big thing... ®
Steve May is a veteran AV journalist and senior editor at Inside CI.