Streaming music is now more popular than CDs, according to the Record Industry Ass. of America (RIAA).
The RIAA reported (PDF) that in the US last year, streaming music sales accounted for $1.87bn in retail revenues, compared to $1.85 in total revenues for disc-based digital media.
Physical media as a whole managed to stave off the streaming tide thanks to $315m in revenues from vinyl (up 49 per cent on the year). Overall, vinyl accounted for 14 per cent of physical music sales, the first time since 1987 that analog was more than 10 per cent of the physical market.
The final tally for the US in 2014 put digital downloads at 37 per cent of sales, physical (CD and vinyl) at 32 per cent and streaming media at 27 per cent. Ringtone and ringback sales accounted for 1 per cent, while synchronizations services took 3 per cent of revenues.
Streaming music revenues were up 29 per cent on the year (up from 5 per cent in 2009), suggesting that the gap between streaming and physical media will only widen in the coming years. The RIAA highlighted the growth in subscription services such as Pandora and Rhapsody, as well as one-time channels like YouTube and Vevo streaming services.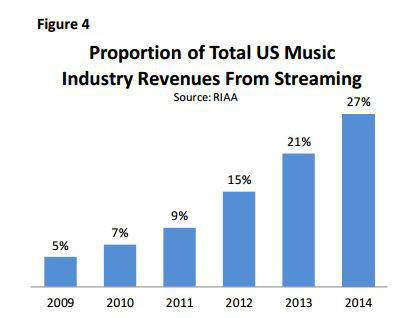 Streaming figures, straight from the Ass.
"Streaming revenue growth was driven by relatively consistent increases from each of its components," the RIAA reported.
"Paid subscription services grew 25 per cent year-over-year to $799 million. Revenues from ad-supported on-demand services grew 34 per cent to $295 million, and SoundExchange distributions grew 31 per cent to $773 million."
Neither printed nor streaming music could match up the market clout of digital downloads. The RIAA said that digital downloads accounted for 37 per cent of all sales, or $2.8bn on the year. That figure was down slightly, falling 8.7 per cent on the year.
Overall, the RIAA reports that digital music accounts for $4.51bn in revenues, or 66 per cent of the total industry haul. ®