Cisco issues regular blog posts pointing out that its unified communications products outsell Microsoft's, but it now looks like Redmond's decided not to take that lying down because it's announced one of the new things Lync will do now that it's become Skype For Business is offer more "room systems".
Microsoft's teamed up with Polycom, Creston and Smart to create "a broad portfolio of meetings solutions for all room shapes and sizes, for budgets big and small." Redmond says the first product in that range is Polycom's RoundTable 100, but has also published the image below to illustrate future offerings.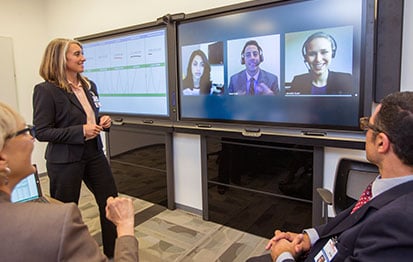 Not as pretty as a Cisco telepresence rig, but mighty similar
That image bears a clear resemblance to a Cisco telepresence room, albeit with a less doctrinaire approach to a room's layout.
But Microsoft clearly wants to enable richer communication, as a new article outlining Skype's future says it will soon gain "enterprise voice and audio conferencing in Office 365, starting with a technical preview in the U.S. this summer, as well as enterprise-grade PSTN connectivity, beginning in the U.S. later this year, followed by a global roll out."
There's also a promise that "Skype Room Systems devices will be built on a platform based on Windows 10, and will be available for customers in the Windows 10 timeframe." Which means "summer" this year.
Exactly how Skype for Business will improve on Lync isn't discussed: your correspondent has chatted over the PSTN with Microsoft folks using Lync around the world. If that's not "enterprise" quality it's hard to know what is, unless this preview of Skype for Business is enterprise quality hype.
You can figure that out for yourself if you're game to to try the Skype for Business technical preview, available here. ®