Ring Roads, After the Crash and The Age of Earthquakes: Guide to the Extreme Present
The latest Nobel prize winner and more ...
---
Page File El Reg bookworm Mark Diston looks at the latest from the publishing world with two recent French translations of best-selling books from Patrick Modiano and Michel Bussi. We've also a curious comment on our life and times by Douglas Coupland, Hans Ulrich Obrist and Shumon Basar that could well find its way into hipsters' pockets and student loos.
Ring Roads
Patrick Modiano is a French novelist and the latest winner of the Nobel Prize for Literature. Modiano was born in July 1945, the son of a Jewish collaborator and a Flemish mother. Modiano has been called "The poet of the occupation" and the period just prior to his birth has been the subject for much of his work.
Before his prize, he was probably best known outside of France for the screenplay of Louis Malle's Lacombe Lucien, a morally ambivalent film about a young rural thug who is drawn into the collaboration. Ring Roads, originally published in French in 1972, is very reminiscent of Lacombe Lucien, the narrator returns to wartime Paris in search of his father who is a collaborator and a Jew, just like the author's.
The narrator finds his prodigal papa with some very suspect acquaintances who humiliate him and are planning to rid themselves of him. He makes his father's acquaintance anonymously – he hasn't seen him for a decade and he has apparently forgotten his son: "From a distance, his figure looked indistinct. Did it belong to a man or to one of those monstrous creatures who loom over you in feverish dreams."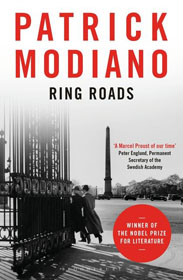 The corruption of the collaboration is brilliantly explained through one of his father's cronies: "He had bouts of black depression when he would confide... that he had become a blackmailer because he was disillusioned by his fellow man."
The narrator feels compelled to save his father, though is uncertain of his own motives: "I should just leave you here, you deserve no better, leave you with the malarial ex-legionary, the hack journalist and the whore." He goes on, "But I will hound you to the bitter end. You interest me Papa. One is always curious to know one's family background."
The literature of the occupation is extensive and very polarised. The writers who were in Paris during the early 1940s – such as Marguerite Duras and Louis-Ferdinand Céline – have left valuable memoirs of the times, but the politics of the era indelibly mark their voices and works.
As time passes there have been some more interesting and ambivalent works by the likes of Patrick Modiano and filmmakers such as Louis Malle in Au Revoir Les Enfants and Claude Chabrol's Story of Women have depicted the occupation as a personal and national tragedy, rather than a trite and oversimplified struggle between right and wrong.
Patrick Modiano was "born astride the grave" sometime between victory in Europe and Japan. Ring Roads and a lot of his early work could be seen as some kind of cheap catharsis, but the quality of the writing is a lot better than just that. Modiano's narration is almost ghostlike, his senses are alive, but his free will seems absent. He appears to be compelled to save his father but does not know why.
As the book progresses and we learn about the shady past of father and son, the story comes to a head around a drunken collaborator wedding. Patrick Modiano is an excellent writer – I am consistently underwhelmed by literary prize winners, but Modiano is a welcome exception.

Author
Patrick Modiano
Title
Ring Roads
Publisher
Bloomsbury Paperbacks
Price
£8.09 (Paperback), £8.99 (eBook)
More info
Publication web site