ARM Holdings is telling investors it will take 20 per cent of the server silicon market by the year 2020.
The company made the claim last week at an event in Taiwan, sending ripples through the Asian media.
A little searching shows that presentations like this one (PDF) shows that the 20 per cent claim has been used in chats with investors since mid-February 2015, with the diagram below offering a hint of how the company thinks it will get there.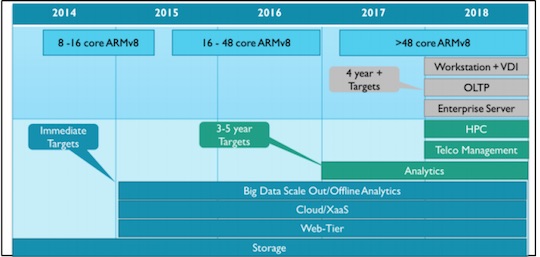 Elsewhere in the presentation, ARM makes it plain that it thinks core data centre workloads are within its reach, especially in hyperscale data centres. The slide deck also guesstimates that by 2020 ARM chippery will be present in just 20 devices, suggesting that the company is wooing white box operators and/or vendors' niche servers
ARM's long looked a data centre contender thanks to its chips' low power consumption and cool runnings, ideal features for the dense rigs needed to run efficiently at very large scales. That folks like Cavium have backed the company's platform by building a 48-core ARMv8 chip, and making sure it plays nice with the Xen hypervisor, doesn't hurt either.
On the downside, the company's investor deck was prepared before Intel announced the Xeon D, a full Xeon designed for hyperscale operations.
Platforms succeed or fail depending on the software that runs on them. ARM's betting that plenty of open source platforms support its architecture and that the applications will then follow to make it an uncompromising alternative to x86.
There's lots of interest in ARM, but is there enough to generate the growth needed to take it from todays one per cent server share to 20 of the market in 2020? Ian Thornton, ARM's veep of investor relations has been reported as saying "This is a nascent market primed for growth." It needs to be if ARM's prediction is to prove accurate. ®
Similar topics