UK ISPs have recently blocked access to The Pirate Bay yet again after a deal with controversial security and hosting company CloudFlare briefly opened them up.
CloudFlare is, among other things, a popular choice for operators of pirate sites which profit from using copyrighted material without permission or payment to the people who own it.
Apart from this, people who have complained about CloudFlare hosting illegal or unethical material allege that their personal information has subsequently been found on online forums, leading to harassment.
The Pirate Bay is one of many dozens of sites blocked under "Section 97a" procedures, whereby rights-holders make requests to block access to a site. The procedure emerged as an alternative to the formal processes made law by sections 17 and 18 of the 2010 Digital Economy Act (DEA).
In a landmark judgment in 2011, Mr Justice Arnold ruled that copyright holders could apply to block access to the sites. Last year, Arnold extended web blocking to other forms of IP, ruling that websites operated by sellers of trademark and design knock-offs could also be blocked. These have a "sunset clause" – the IP owner must re-apply after two years.
In early February, the Pirate Bay signed a deal to use CloudFlare's CDN (Content Delivery Network). CloudFlare has since been criticised from all directions. While some fear that it's a honeypot being used to identify distributors and downloaders of illegal or pirated content, others say they have found themselves harassed after legitimately reporting either copyright infringement or illegal material.
Satirical songwriter Peter Coffin found himself "doxxed" – meaning documents containing his personal details were posted online – after he complained to CloudFlare about copyright infringement; Coffin alleges that his personal information was leaked by CloudFlare to 8chan.
In its web form for reporting abuse, CloudFlare reserves the right to share your personal information:
By submitting this report, you consent to the above information potentially being released by CloudFlare to third parties such as the website owner, the responsible hosting provider, law enforcement, and/or entities like Chilling Effects.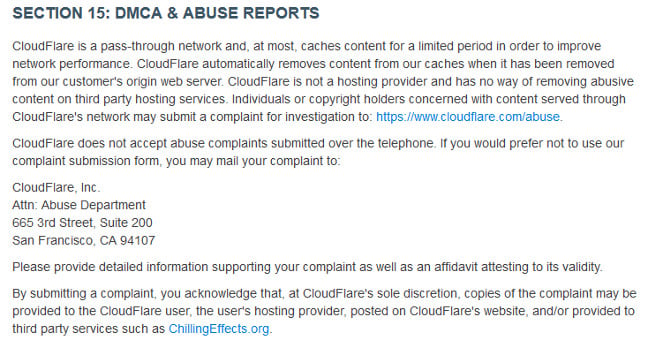 An excerpt from CloudFlare's terms of service
Part-funded by Google, the Chilling Effects project publishes details of copyright infringement complainants, and republishes links to the infringing material.
TorrentFreak has reported that since inking a deal with CloudFlare, The Pirate Bay had become accessible again via "most" UK ISPs, including Virgin. Infringing sites using CloudFlare had been able to obfuscate The Pirate Bay's real DNS, and our own tests show the site is inaccessible - while others such as KickAss Torrents, which was recently kicked off its .so Somalian domain, and Torrentz.eu are reachable.
Determined technical users have always been able to circumvent the UK site block by using a VPN or a proxy. The order was always designed to make it harder for the casual, non-technical user to reach pirated material easily, rather than a comprehensive blanket ban.
In court evidence presented last year, one ISP put the cost of maintaining a block at £3,600 a year per site, which convinced Mr Justice Arnold that blocking was cheap and effective. He urged rights-holders not to rely on the block, and continue to pursue other measures against infringers such as targeting payment processors and advertising networks used by the sites.
CloudFlare had not responded to The Register's repeated and prolonged attempts to contact it for comment at the time of publication. We'll update this story if we hear back from it. ®
Similar topics