Becoming Steve Jobs biography: 'Much of it was chutzpah and self delusion'
Nails the man, but leaves you nostalgic
Page File Hotly-trailed biography Becoming Steve Jobs is the first major book on the turtlenecked Apple godhead since Walter Isaacson's authorised bio.
Written by US business journalist Brent Schlender with help from Fast Company editor Rick Tetzeli, primarily in the first person, it arrives strapped Major Kong-style to its own redlining bullshit meter – thanks to the kind of scorched-earth marketing blitz that even the Apple CEO would never have stooped to.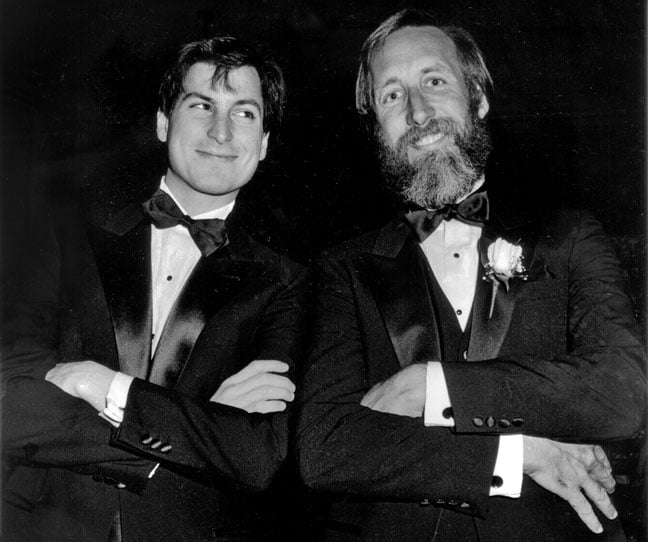 Steve Jobs and Chiat/Day's Lee Clow at an advertising awards show that honoured the Apple '1984' Superbowl campaign. Image courtesy of Lee Clow
Stop me if you've already seen the most striking revelations buzzfed into scream heads on all your favourite techbait sites for the last three weeks, but the real surprise is that this turns out to be a Jobs book well worth your eyeballs. Not that it'll make you think differently: as Schlender frankly admits, "Every cliché is built on some truth", including the cliché that "Steve Jobs was half genius, half asshole".
But rarely has anecdote and insight rotoscoped such a high-resolution model of the exact kind of genius, the exact kind of asshole.
As recounted to Schlender by philanthropist Larry Brilliant, Jobs visits a Californian hotel called the Garden of Allah – a notable image in itself given Jobs' Syrian Arab parentage, although the name was not a direct reference to Islam, which he never followed – for a meeting of a charity board that includes Bob Weir of the Grateful Dead and Ram Dass, author of Hippie bible Be Here Now.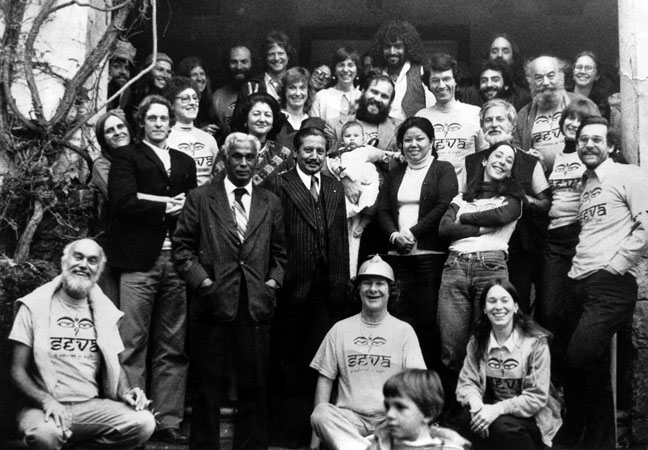 Gathering of the Seva Foundation in 1979 – Jobs (not pictured) donated $5,000 to the cause. His close friend Larry Brilliant is in the centre with his baby boy. Indian opthamologist Dr. Venkataswamy – whose operations to prevent blindness were funded by Seva – stands to left of Wavy Gravy (sitting with propeller hat). Ram Dass, author of besteller Be Here Now, squats to the far left. Image courtesy of the Seva Foundation.
Frustrated with the naïvety of the assembled do-gooders, Jobs starts explaining why they need to hire a marketing expert, and when they won't listen he storms out – only to be found by Brilliant slumped in his open-top Mercedes, crying. It is 1979, and Steve Jobs is just 24 years old.
Six years later, his company has IPO'd – making Jobs a quarter of a billion dollars on paper – and then immediately implodes, partly due to his own bad choices, leaving him cashed out with $70m. Susan Barnes, one of the Apple pirates who jumped ship with him to form NeXT, recalls distant doors banging in the wind during a 1985 meeting. Jobs instinctively looks around the room for an employee he can blame for it. He can't: they're in his own home.
In a contemporary TV interview, he's asked whether the 17,000 square foot mansion has curtains. He doesn't know.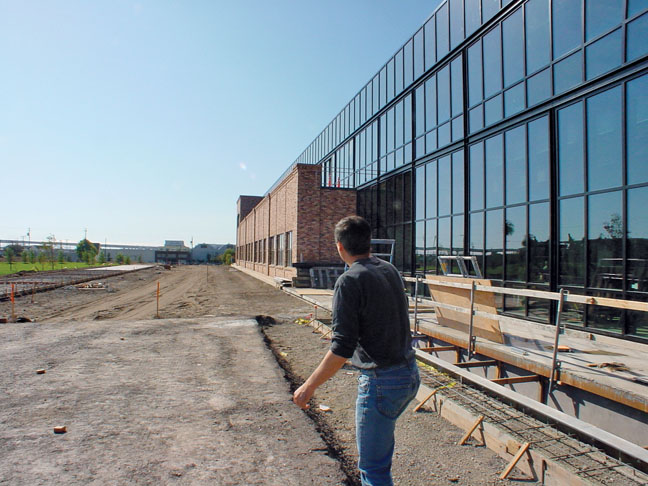 Pixar HQ in Emeryville nicknamed 'Steve's Movie' by the employees as he invested so much time in its creation – he was particularly proud of the wall ahead that had been meticulously arranged to appear as a random pattern – image courtesy of Brent Schlender
Ten years after the Garden of Allah, the author visits NeXT's state-of-the-art Silicon Valley factory. The assembly robots – not the product, the machines that will build the product – are hand-finished in shades of grey specified by Jobs. There are enough of them to build 600 workstations a day. The factory will never make 600 a month: thanks to Jobs' perfectionism, prices are twice what customers will pay.
"Chutzpah and self-delusion," summarises Schlender. But later he's impressed by Pixar's Emeryville studio, also designed under Jobs' direction, down to the unique colouring of the bricks and the provenance of the girders, and thought through in terms of how people would cross each other's paths during their days. "He was lovingly crafting a place to work in," explains Pixar's Ed Catmull. Schlender's editors decline to run a piece on the building because it isn't showy enough.
Steve is such a product guy, driving with the top down in "his brand-new Mercedes-Benz 450SL", which "he loved the way he loved his Linn-Sondek audiophile turntable and his Ansel Adams platinum prints". He almost ruins Pixar trying to run it as a hardware maker. But the epiphany comes when he goes to SIGGRAPH 86 with director John Lasseter and sees the audience's reaction to Lasseter's demo film, Luxo Jr. "That immediate response" to the humanity of the story is what switches his focus from computers to movies – and ultimately makes his first billion.