Microsoft has changed direction slightly with regard to how Windows 10 will handle web browsing, in a move that suggests development of Internet Explorer has finally come to an end – as has been rumored.
We've long known that Redmond has a new, standards-compliant web rendering engine in the works called Project Spartan, which will form the heart of a minimalist new web browser that will ship with Windows 10.
Previously, Microsoft has said that the Project Spartan rendering engine would also be the default for Internet Explorer 11 on Windows 10, and that IE would fall back to its current engine only when browsing legacy sites. As of Tuesday, that's no longer the case.
"Hosting our new engine in Internet Explorer 11 has compatibility implications that ... would have made the browser behave differently on Windows 10," Project Spartan project manager Kyle Pflug said in a blog post on Tuesday.
Pflug added that "strong feedback" from the Windows Insider program and elsewhere suggested that customers were concerned whether the dual-engine strategy for IE would preserve compatibility with older applications, and about what developers would need to do to target each product.
As a result, if you want Microsoft's latest-and-greatest rendering engine, from now on you'll have to launch Spartan, which will use that engine exclusively. IE, meanwhile, will not offer the new engine either as a default or otherwise.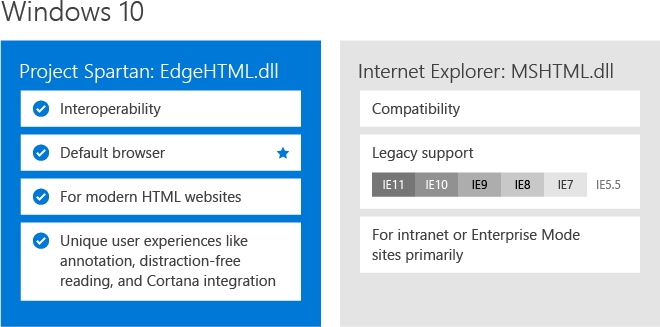 Pick your poison: Windows 10 will now ship with two completely separate browsers, Spartan and IE
Or, as Pflug put it, "Internet Explorer 11 will remain fundamentally unchanged from Windows 8.1" – which sounds an awful lot like development of the creaky old browser is effectively halted (presumably with the exception of security updates). El Reg asked Microsoft for clarification on this point, but we have yet to hear back.
If IE's features have been frozen, however, it would come as no surprise. Redmond has been aggressively urging customers to upgrade their browsers for some months now. In August 2014, the IE Team announced that come January 12, 2016, only the most recent version of IE on any supported version of Windows would receive technical support and security updates.  
But herding Windows 10 users toward Spartan has more implications than just lack of compatibility with lousy old websites that were coded for IE's quirks.
For one thing, Spartan won't support ActiveX controls or Browser Helper Objects, which means heavy IE users will have to lose most of their previous add-on functionality. Redmond is believed to be working on a JavaScript-based extension system for Spartan (a la Chrome) but that will still require complete rewrites of existing extensions.
And while it may not be hard to convince consumers to dump IE for Spartan – especially given that it will be the default browser on Windows 10 – enterprises will have a tougher time making the shift, particularly where Group Policy mandates IE. If large organizations choose to stick with IE, it could leave web developers stuck "coding down" to IE's level anyway.
For those already testing Spartan's new rendering engine via the Windows Insider program, however, Pflug said the engine will be removed from IE in the next build of Windows 10 that ships to testers. That will also be when most of us get our first hands-on look at Spartan, although Pflug didn't say when the new build would actually ship. ®
Similar topics