This article is more than 1 year old
Coho: Hi ho, hi ho, let's go to Intel's dev chateau
Storage upstart keeps its eyes on Chipzilla's flash drive prize
Coho Data has bounced up into view again, joining an Intel development partnership focused on lashing together CPUs, SSDs and Ethernet switches. What gives?
We talked about Coho's scale-out DataStream platform, with its MicroArrays and bare-metal object store, here, in 2013. Although Coho may not like the term, these are hyper-converged-style boxes, combining server, storage and networking, plus Coho software, in one product. However, they don't compete directly with Nutanix, SimpliVity, Maxta and EVO: RAIL hyper-converged boxes, because they are a storage resource and not a general-purpose computing resource.
Coho's CTO and co-founder Andrew Warfield told us: "Regarding hyper-convergence: the cool bits of Coho's stack (at least as far as I'm concerned) are the scalable I/O components. Integrating with the SDN switch elements allowed us to effectively build a distributed TCP stack where the NFS daemon on each microarray can bind and listen for a request on a shared IP and port as a single scalable service. Virtualising and unifying the direct-attached flash and disks gives us a scalable and high-performance object store. The 'NFS' bit that sits in between these two scalable I/O services is intentionally pretty thin, and that's kind of the point."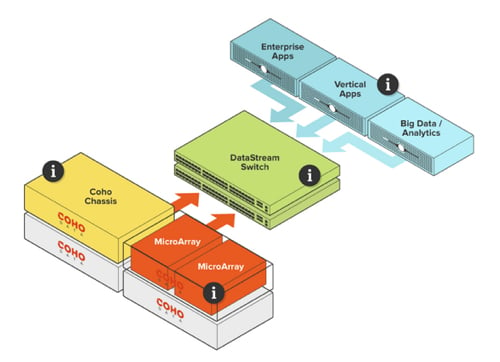 Basic Coho architecture
The new development partnership with Chipzilla involves Coho focusing on Intel solid-state drives such as the DC NVMe P3700 series and S3500 series. Coho Data is the first storage company to be part of Intel's Network Builders programme and is currently integrating with Intel's Data Plane Development Kit.
Intel's Network Builders Programme aims to help suppliers more easily build network functions virtualisation (NFV) and software-defined networking (SDN) solutions. You might think Coho Data's presence is questionable, as it's a storage array vendor, not a networking product vendor. But its product includes a switch and SDN, and Coho wants to ship data from its array to host servers as fast as possible.
Intel and 6WIND are the two main contributors to the Data Plane Development Kit (DPDK) which is provided and supported under the open-source BSD licence. It's a set of libraries and network interface controller drivers for fast packet processing, utilising an Environment Abstraction Layer (EAL).
This DPDK provides a programming framework for x86 (Atom, Xeon) processors and enables faster development of high-speed data packet networking applications. Support for other processor architectures, such as IBM's POWER8, is underway.
By better tuning its software and hardware to Intel's processing, flash and switch tech, Coho should be able to produce faster systems. They currently scale out to 64 nodes, but we may see more than that eventually. Check out a Coho DataStream white paper here (pdf). ®