This article is more than 1 year old
Facebook welcomes THINGS to its network with Parse IoT push
New SDKs link devices, mobile apps
F8 2015 Facebook was founded with the goal of connecting people online, but on Wednesday the company said it is branching out into connecting stuff, too.
Speaking at Facebook's F8 developer conference in San Francisco on Wednesday, Ilya Sukhar, CEO of the social network's Parse subsidiary, said his firm has launched a new line of SDKs aimed at the so-called Internet of Things (IoT).
"We want to be there with you when you start experimenting with this world," Sukhar said. "We want to be there to make sure you don't spend your time on the wrong challenges and reinventing the wheel."
Parse, which Facebook acquired in 2013 for an estimated $85m, provides backend infrastructure for some 500,000 mobile apps. With its move into IoT, it will now begin providing similar communications services for connected devices.
Linking up the IoT is a hotly contested area these days, with multiple companies and industry groups vying to provide a standard way for devices to talk to each other. By expanding its platform to include devices, Parse is hoping to capture a share of that market among developers already familiar with Parse for mobile apps.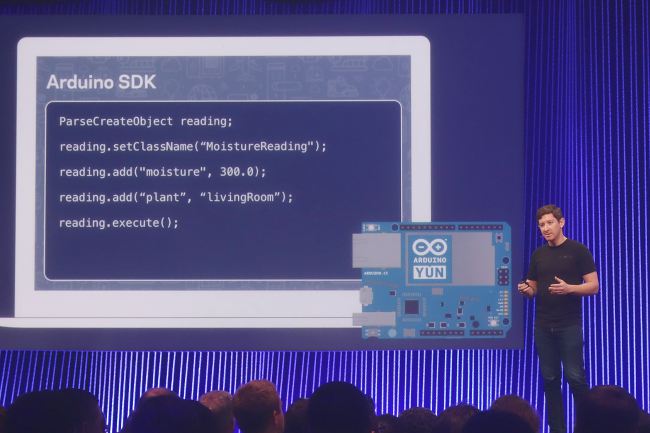 Parse CEO Ilya Sukhar said linking the Arduino Yún with Parse was as easy as adding a few lines of code
Parse's first product targeting devices, Suhkar said, is an SDK for the Arduino Yún, a Wi-Fi enabled microcontroller board, and he demonstrated how developers can get the board talking to a Parse-enabled app with just a few lines of code.
In a blog post, Parse engineer James Yu said the company is already working on SDKs for future platforms, including the Arduino Zero with the Wi-Fi Shield 101.
"With these SDKs, your device will be able to receive push notifications, save data, and take advantage of the Parse Cloud," Yu said. "It's easy to get started from scratch, and the process should be very familiar for developers who already use Parse."
Yu said Parse plans to release its SDKs via its GitHub repository, and the SDK for the Arduino Yún landed there on Wednesday. Quick Start guides for the Yún and other devices are also available on Parse's website.
"The possibilities are endless. You could make a smart thermostat that can be controlled via a mobile app, or a security camera that saves images every minute, or even a music device that can be controlled via a web app," Yu said. ®