After having withdrawn its Invicta all-flash array (AFA) from sale last year, Cisco is trying to crack the AFA market again
Cisco bought Whiptail and its Invicta flash array technology for $415 million in 2013, and wants to build it into a $1bn business. However, it withdrew it from sale in September 2014 after scaling problems emerged with the array.
There were also marketing problems in that Cisco positioned Invicta – a FC-connected all-flash array – as an application-centric acceleration product and not a storage product, a distinction that excited derisory comments.
This background was widely viewed as an attempt not to upset EMC, which had its own XtremIO flash array technology. EMC was then the joint owner of VCE, which built integrated systems using Cisco servers and switches, EMC storage and VMware software.
However Cisco has distanced itself from VCE, which is now mostly owned by EMC. Joe Tucci's company is now building EVO: RAIL systems using white-label servers, thus increasing the Cisco-EMC marketing separation. Cisco also has marketing relationships with a number of storage providers, including NetApp to SimpliVity, meaning that EMC is relatively less important, though it may be that EMC-owned VCE is one of Cisco's biggest UCS server OEMs.
There are two existing Invicta products and one in development:
Invicta Scaling System (ISS) for enterprises, built from C3124SN Nodes and C710SR routers
2U 3TB - 24TB Invicta C3124SA appliance for SMB
Storage blade in development
In general, Invicta arrays support 215,000 50:50 mixed read and write 4KB block IOPS and 155,000 IOPS when dedupe is switched on. They have RAID 6 and dual-path failover capabilities, point-in-time data copies via snapshots and asynchronous replication. SSDs can be hot swapped and there are array problem phone-home capabilities to get remote support staff help.
When Invicta was withdrawn from sale, Cisco stated it wanted to make its UCS Manager product a stronger Invicta management facility.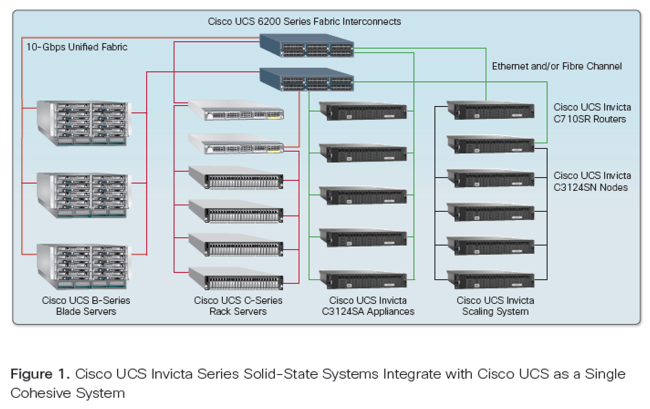 Cisco UCS Invicta graphic. The 6200 supports Ethernet, FCoE and Fibre Channel
The appliance and the ISS are reportedly now shipping again and the storage blade is expected in the summer. How Cisco will present its Invicta tech is unclear. The default is that it will still focus on accelerating applications and pretend it's not general shared storage.
This will, at least, enable it to say it's not competing in the general shared AFA market and mixing it with EMC, IBM HDS, HP, Uncle Tom Cobley and all. ®