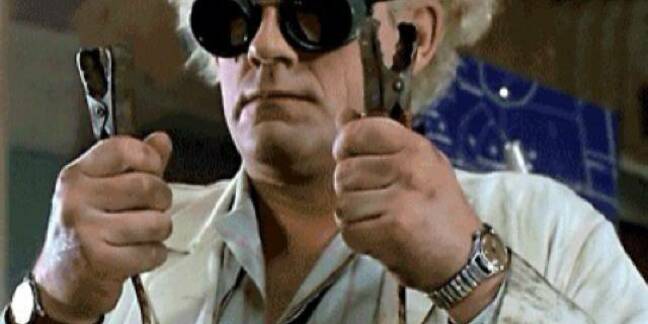 Amazon hopes to knacker its competitors in the cloud world by offering endless online storage space for a flat yearly fee.
For $12 a year netizens can store an "infinite" number of photos on Amazon's servers under the new Unlimited Photos Plan, along with 5GB of storage for other types of files. The $60 per annum Unlimited Everything Plan provides limitless storage of nearly any type of file, we're told.
(Amazon is clearly betting on the universe being infinite. We wonder whether the CIA's Amazon-built $600m data center magically holds an infinite amount of data, too.)
"Most people have a lifetime of birthdays, vacations, holidays, and everyday moments stored across numerous devices. And, they don't know how many gigabytes of storage they need to back all of them up," said Josh Petersen, director of Amazon Cloud Drive.
"With the two new plans we are introducing today, customers don't need to worry about storage space — they now have an affordable, secure solution to store unlimited amounts of photos, videos, movies, music, and files in one convenient place."
There are, of course, some caveats. Files can't be larger than 2GB, so no HD film uploads, and certain types of content are out – including pornography and pirated material. Amazon also wants users to make sure that no malware gets uploaded, but the US giant hasn't said how it intends to scan for dodgy bytes.
As always, check the fine print before committing to using the service: for example, the terms and conditions grant Amazon "the rights to copy your files for backup purposes, modify your files to enable access in different formats, use information about your files to organize them on your behalf, and access your files to provide technical support."
Amazon's kicking off the service with a three-month free trial for all users. You'll need a credit card to sign up. Cancel the service and you've got 30 days to get your data off its systems.
The announcement lobs a bomb into the cloud storage market. While companies like Dropbox offer unlimited storage for business users, people at home usually have to pay a significant amount for cloud backups.
A terabyte of storage of iCloud costs $20 a month, while the same amount on Google's Drive will set you back $10 every 30 days. Microsoft's Office 365 users do get unlimited storage, with the cheapest plan $7 a month. Amazon undercutting its rivals will cause them headaches and, based on past experience, a price war.
That's good news for you and I, but bad news for smaller companies like Dropbox that aren't going to be happy about running cloud storage at a loss. It appears there could be a shakedown in the market coming. ®
Sponsored: Ransomware has gone nuclear